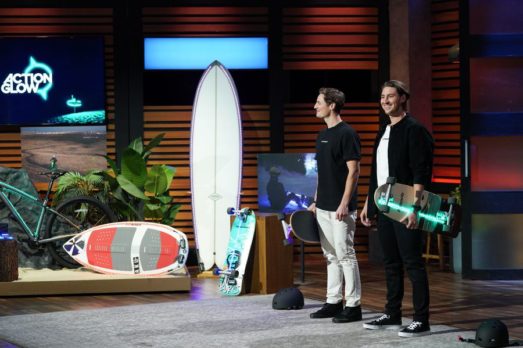 Garret and Dakota Porter invented Action Glow when they were teenagers. Now, ten years later, they're bringing their global brand to the  Shark Tank. The guys make LED lights for sporting equipment: snowboards, skis, surfboards, skateboards and more. They used to like snowboarding at night and they hated the whiteness of the slopes: white snow and white lights.
One day, they fashioned a string  of LED lights to their boards and hit the slopes. They were inundated with questions; people wanted to know where they got them – that's when they realized they had a potential business on their hands. When they officially started their business they were 15 and 18 years old. They even had a Shark Tank producer reach out to them to try out for the show but they declined because they didn't feel they'd be taken seriously. Since that time, they've applied three times, twice unsuccessfully.
Action Glow has its products patented (the patent is for attaching LED lighting to sporting equipment). Prices range from $69 for a longboard lighting set to $169 for a kayak set. The lights attach with a strong adhesive and they're powered by a 9 volt battery. Once you're lights are attached, keep them in a room temperature, dry place for 24-48 hours to allow the adhesive to cure. Once it does, you're ready to hit the slopes (or the water or the trail). The guys hope the third time is the charm when they pitch to the Sharks in Shark Tank episode 1407.
My Take on Action Glow
I think these lights are cool. My skiing days are over, but I do bike and kayak fairly frequently. Back in the day, I was an avid skier. I skied all over New England, in Vail, Park City and Canada. Alas, the complications of knee and back issues have kept me off the slopes for 15 years. When I was skiing, I would have loved a set of these lights.
As I don't kayak at night, I probably wouldn't get that set. I do, however, bike in the evenings a lot. I used to have a set of Revo Lights for safety, but they got damaged and I couldn't get a new set because they went out of business. I will very likely get a set of Action Glow light for my bike. I am IN.
Will Sharks Light Up Over This Business?
These guys have sales all over the world and some pretty good brand recognition. They've had their products featured in Red Bull and  Jeep commercials and on the ABC TV show The Ultimate Surfer. They also have some big name skiers and snowboarders as brand ambassadors. They've come a long way in the paast ten years and It should bring in some offers.
Mark invested in Power Practical's Power Pot back in season 5. That company went on to make "Lumi Noodles," a string of LED lights for camping. The were acquired, so Mark doesn't have a conflict. He may well jump back into the LED lighting business. As for the other Sharks, any one of them could make an offer. Barbara is a skier and Robert is into all sorts of outdoor sports – either could make an offer. If Lori thinks the lights would sell on QVC, she'll be in the mix. I fully expect a royalty offer from Mr. Wonderful as I'm sure Action Glow's margins are good. We may see a Shark fight!