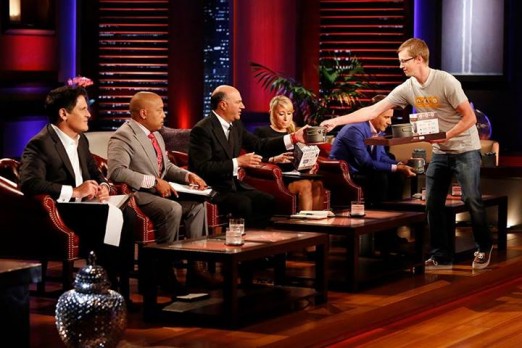 Caleb Light and David Toledo pitch their high tech cooking pot called Power Pot, a thermoelectric generator to charge electronic devices with heat, in Shark tank episode 524 on April 11. Light and Toldeo are the latest Kickstarter entrepreneurs to make their way into the Tank after raising just over $200K in two separate rounds.
The Power Pot, the "flagship product" of their business which is called Power Practical, uses heat from boiling water or cooking to charge any USB device: smart phones, cameras, GPS units and more. They are available on Amazon, at Bass Pro Shops, REI, and Cabella's nationwide, and at many independent outdoor outfitters. The Power Pot is great for campers and hikers, but it's a good item to have in case of an extended power outage too. The company also sells cables, lights, lithium batteries, and camp stoves.
They're likely looking for a Shark to expand their retail presence and for a cash infusion for production.
Power Pot Shark Tank Recap
Caleb and David enter the tank seeking a $250,000 investment in exchange for 10% of their business. Even though the Power Pot guys pre-sold 100,000 units on their Kickstarter campaign and they project $2 million in sales for the year, the Sharks express concern about the valuation.
Mark likes the guys and the product, so he offers $250K for 20% of the business. Caleb and David counter with $250K for 12% plus 3% in "advisory options" (shares of the company set aside in 1st round of Power Pot's funding for future hires) and a seat on their Board of Directors. Mark doesn't hesitate and he does the deal and in an over-excited Shark Tank moment, David and Caleb MISS when they go for a "high five."
Power Pot Shark Tank Update
Since doing the deal with Cuban, Power Pot has increased retail distribution to virtually every major retail outdoor and camping venue. They continue to sell well on Amazon and forays are being made into making the product available in Third World countries for easy ways to charge cell phones and lights with boiling water.
In March, 2020, the company was acquired for an undisclosed amount by Thrasio. Caleb, David and the rest of the team remain with the company as part of the product development team. Their first project was a bathroom spray!
Fast forward to November, 2021 and the company no longer makes the pots. They still make their Luminoodle lights. The company also makes TV lights, stick on outdoor lights and plasma lighters. As of September, 2022, the company no longer has a web page. Their domain www.powerpractical.com redirects to their Amazon store where the products are readily available. Annual revenue is around $1.5 million.
Posts About Power Pot on Shark Tank Blog
Luminoodle Basecamp – Interview with Caleb Light
Luminoodle by Power Practical – Interview with Caleb Light
Company Information
Video