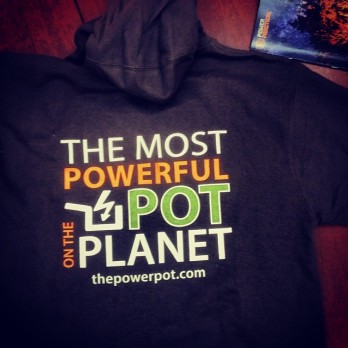 Power Practical principles Caleb Light and David Toledo spoke with me prior to their pitch on Shark Tank episode 524 where they'll introduce Power Pot, a thermoelectric generator and cooking pot all in one. The two Eagle Scouts combined their love for camping and their technical and business talents to create a "powerful" business" with a game-changing product.
Power Practical is based in Salt Lake City,Utah. David is a Utah University graduate; a materials engineer by profession, he is the inventor of Power Pot. Caleb graduated from Utah Valley University; he's the marketing guy.
Utah seems to be churning out a lot of Shark Tank businesses in season five. "There's a thriving entrepreneurial community in Utah," explains David, "there are a lot of start-ups. We do everything from our Salt Lake City location."
Power Practical has outdoorsy roots, too. "Seven out of fourteen people who work at the company are former Eagle Scouts. We all like camping," says Caleb.
Power Practical Origins: The Power Pot
"As a materials engineer and a lover of the outdoors," David begins, "I got inspired to create a thermoelectric generator with no moving parts. Using thermocouplers, I was able to create the Power Pot. Basically, a thermocoupler uses special metals that, when a temperature difference is introduced, the electrons move and create an electric charge. The Power Pot has these metals on the inside and outside of the pot. The metal on the inside, since it has water, will always be cooler than the metal on the outside, which is touching the heat source. There are about a thousand thermocouplers in each Power Pot."
"Thermocouplers are not a new technology, we just applied them in a new way," adds Caleb, "but we were issued a patent on March 18 (2014). The patent is for having a 'vessel' with the water and a heat sink. Everything I use camping is rechargeable: headlamp, radio, camera, etc, so there are a lot of uses."
"You can cook in the Power Pot too," says David, "so you get double utility. We actually have a chart that tells you how much battery charging you can expect from different foods. Cooking Ramen Noodles charges my headlamp about 30%. Everyone needs a cooking pot when camping, so it makes a lot of sense for most campers."
Apparently some major outdoor outfitters agree. In addition to selling on Amazon, you'll find the Power Pot in REI, Cabella's, and Bass Pro Shops.
Kickstarting Power Practical
Power Practical successfully funded the Power Pot with two rounds of Kickstarter funding. They have two other successful Kickstarter projects as well. "To create a successful Kickstarter campaign,' says Caleb, "you have to have a marginally interesting product, create good content, get people to go to your campaign, and entice them to give. Successful projects create their own media attention, a lot of it is organic. We were early adopters of the Kickstarter platform, so that may have contributed to our success; we have a large Kickstarter following now."
"There are three challenges with Kickstarter," adds David, "funding, fulfilling, then going from fulfilling to creating a business out of the Kickstarter. Our average funding was $125, after that, $189 was the next most popular amount. We used it as a pre-order platform. It allowed us to pre-sell Power Pots and collect money to do a production run. We never made any money from the campaigns, they allowed us to get the business going."
Kicking all the way to The Shark Tank
"A producer from Shark Tank called," David explains, "and they told us they found us on Kickstarter." David confessed to never watching Shark Tank before they were contacted, but Caleb has been a fan since season one.
"I thought it was pretty cool," says Caleb, "but we had to ask ourselves 'do we really want to do  this?' The process takes a lot of time and energy and there are no guarantees. As a company, we were stretched pretty thin; the whole thing could have been a waste of our time."
"We figured we'd take it step by step," adds David, "we sent the video in and did the paperwork. While we were doing the application, we saw the producer's option for up to 5% of sales. When we saw that, we were going to back out, but they removed that clause, so we went forward. We would not go on the show with that clause, I think that's why Mark Cuban insisted it get removed."
"As far as Kickstarter goes," Caleb continues, "I think that's becoming the best way to get on Shark Tank. They're recruiting heavily from Kickstarter and if you have a successful campaign, they want you on the show."
Power Practical after Shark Tank
Caleb and David taped in July, so they've been keeping this secret for about 9 months. They couldn't tell me what happened, but they did talk about future plans for the company.
"For the past few weeks," says Caleb, "we've been in the throes of re-designing our website. Power Practical is a changing company."
"We have growing revenues," David adds, "it's a steep growth graph and we'll be cash flow positive by end of the year. We have a couple new products to launch this year and we're going to stay true to our roots and launch on Kickstarter. One thing we're working on is applying our system to a residential hot water heater."
Parting Words
I asked Caleb and David to tell me what they think it takes to be successful as an entrepreneur.
There are a few key things," says Caleb, "you have to have the right team. We live in a specialized world and having different people with different, complementary skills sets is important. Once you build a good team, you need the tenacity to go and execute and go for it."
"I started this business when I was 21," says David, "I had no experience, so I asked an MBA friend of mine what he thought of my idea. He said 'ideas are a dime a dozen, it's execution that matters.' A lot of people who create a technical product are afraid of having their ideas stolen. You can't let that rule your world. If it's a good idea, it will get knocked off, you can't worry – you have to go out there and execute."
Whether they do a deal with a Shark or not (I think they do), the Power Practical team has great things in their future.
I had one other question for Caleb and David. They answer on The Hot Dog Truck.