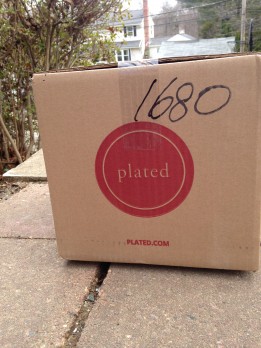 When I saw Plated had a Shark Tank Special the night they originally aired, I thought it would be a perfect opportunity to do a Plated Review. After all, it would give me an opportunity to get back to my "foodie blogger roots." Plated is a service that sends chef designed meals directly to your home with all the ingredients (except for stuff like salt, pepper, and olive oil) to make a delicious meal. They aren't shipping Mac and Cheese, these are top quality dishes! Once or twice a week, a box with the ingredients (like the one above) arrives at your doorstep.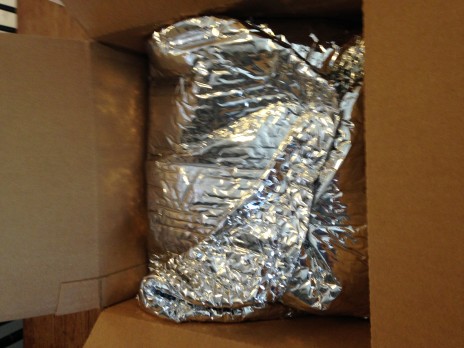 Everything is wrapped in insulated packing with ice packs to keep things cold.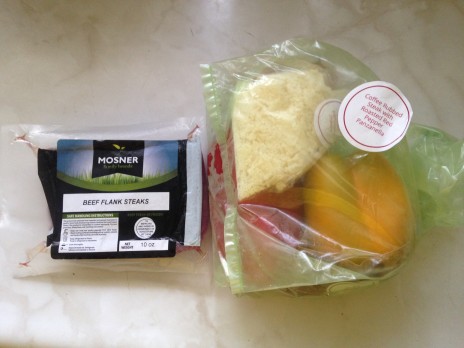 All the ingredients are neatly packed…..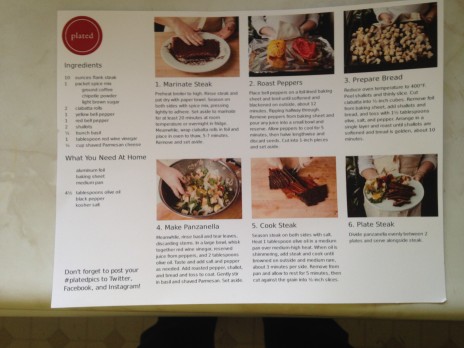 There's even a step by step, 8×11 recipe card (or you can get instructions from the website). We got two meals, but I only took pictures preparing the Coffee Rubbed Steak with roasted pepper panzanella.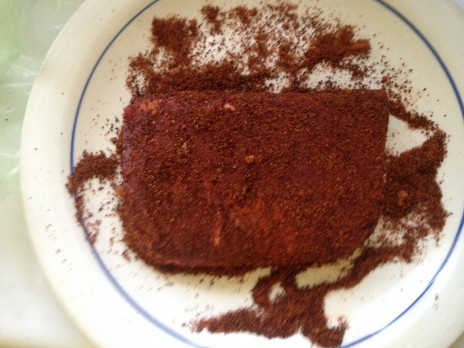 I put the rub on the steak in the morning and set it in the fridge.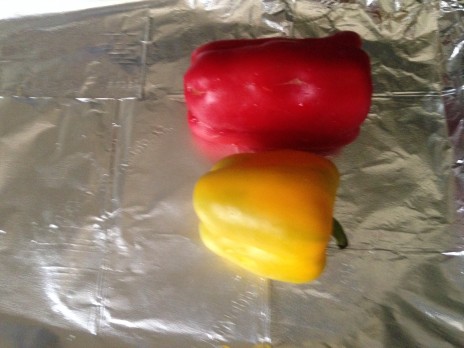 At dinner time, I got the peppers ready for roasting…..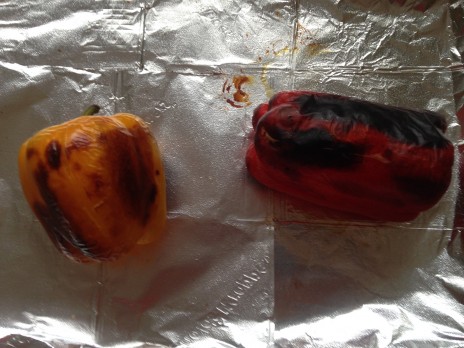 Yummy roasted pepper goodness!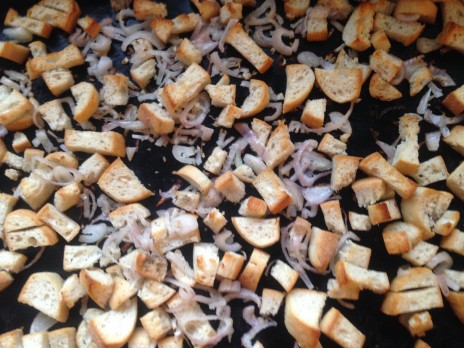 Next I readied the bread and shallots for toasting….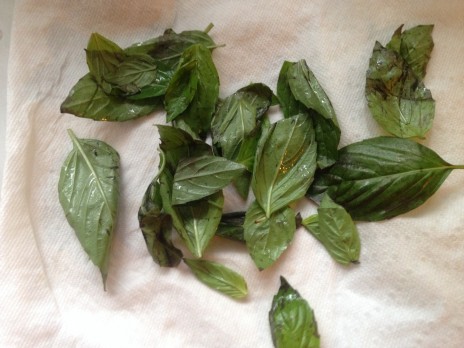 …and washed the fresh basil.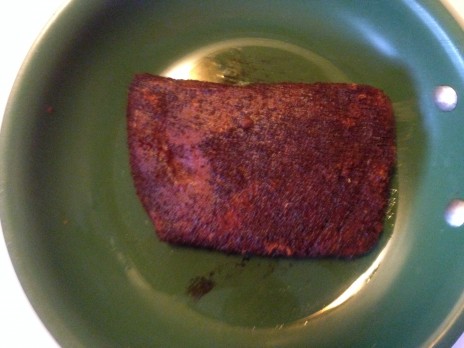 Time to cook the steak in some sizzling olive oil.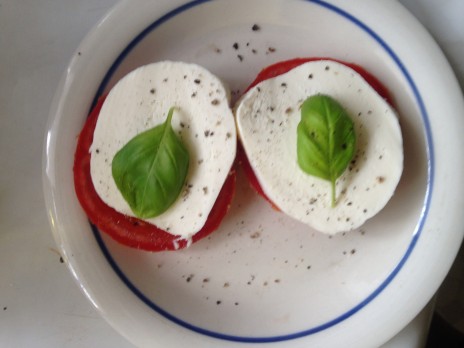 I also made a tomato and mozzarella salad as a side dish.
Once the steak was done, I sliced it, tossed the panzanella, and plated it.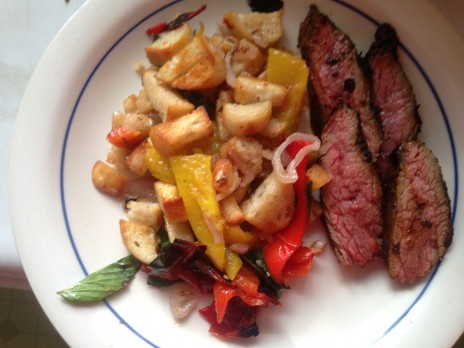 Looking good! It tasted good too. The sweetness of the roasted pepper, the texture of the crunchy, toasted ciabatta bread and the savory, spicy steak was a wonderful combination of texture and flavor.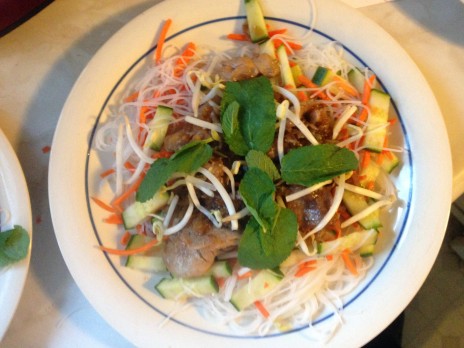 The previous day, I made the Lemongrass pork tenderloin with rice vermicelli. Also delicious.
Plated Review
Taking pictures and eating is the fun part, but doing a Plated review is "the job." Overall, I was pleased with the experience. I got the Shark Tank special price (free plus twenty bucks shipping), so I figured I couldn't lose. If I ordered at regular price, It would have run me $32.
Even at that price, I'd consider this a value when you take specialty ingredients into account. For instance, with the lemongrass pork dish, they sent one stalk of lemongrass – just enough for that meal. If I had to go buy "full sized portions" of each ingredient I don't have lying around the house, I would have spent more than what I did for the Plated meal, and I probably would have tossed a lot of food into the compost heap – unless we had lemongrass something every night for a week THAT would NOT be a popular choice). With the steak dish, the basil alone at the store would run $3-$4 (we have a bush of the stuff in the kitchen).
What you're paying for with Plated is convenience and foods that are out of your standard meal routine. We eat steak and pork all the time, but not the way Plated presented it, so it was a nice treat. I personally wouldn't replace my dinner menu with Plated all the time, but I could see ordering it once a week as a break from the norm without having to do any extra shopping.
I do all the cooking and food shopping in our family – it comes from cooking with my grandmother and parents while growing up. My wife makes a mean grilled cheese and cup of tea, but her repertoire ends there; if I want a varied menu, I have to do it myself! (She's not complaining either)
On Shark Tank, Plated said their biggest competition was takeout. I would respectfully disagree. When I order takeout, it's because I don't want to cook. When I'm bored and feel like whipping up something special, I do it because I want something special and I want to prepare it myself. Maybe I'm not the Plated demographic, but that's how I roll. Plated takes the biggest pain away from whipping up a special meal: the shopping. That's the part I don't always enjoy, though I LOVE my bi-monthly trips to Boston's Haymarket.
But I digress. The food has to measure up to the convenience and the Plated review score on the food is a "10." Everything was fresh. The meats were packed well and of the finest quality. The recipes were fantastic. The proof is in the pudding and Plated's pudding was yummy. When you're in the food biz, you need to have good food – I oughta know. Good food brings people back and I'll be ordering from Plated again.
I also like the gift option. My parents, who instilled the love of cooking in me, still like to get creative in the kitchen, but they'd like the ease of Plated's system. They'll be getting some meals in a box soon as a gift. It's perfect for me, because I never know what to get them anyway (unless it's a Scrub Daddy for my mother).
Plated Review Scores
Most reviews have some sort of "score," so I am going on a 1-10 scale for my Plated review.
Freshness: 9 (it would have been a 10, but my home-grown basil was far fresher)
Meat quality: 10
Recipes: 10
Value: 10 (would be an 8 for me at regular prices)
Convenience: 11
I don't know what else to say. I enjoyed the entire experience. Plated may be a tad pricey for some, but at $6-$10 per serving, it's a good way to have a special meal without going out. Visit www.plated.com to check it out for yourself.