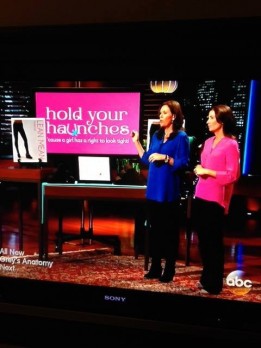 When I spoke to Erin Bickley and Jenny Greer for a Hold Your Haunches update the Monday after their original air date in the Shark Tank "battle of the sexes" episode, I had no idea I'd be speaking to the latest Shark Tank success story! The ladies were punchy after a weekend of limited sleep and BIG sales.
Erin and Jenny scored a deal with Barbara and Lori on the air. The lady Sharks invested $75K for 40% of the business plus a $100K line of credit. Right after they did the deal, things blew up for Erin and Jenny.
Hold Your Haunches Update: Sales Skyrocket
"We haven't slept," Erin begins, "it hasn't been a good weekend for beauty sleep. It's been a contest to see which one of us can get older and uglier faster! We more than doubled what we sold over the past two years this weekend. All we have left in stock is a few extra small and a few plus sizes. We were selling a pair of pants a minute at one point."
"We had 3,700 pairs of pants in stock," Jenny continues, " they're all gone. We heard about our air date two weeks in advance, so we ordered as much stock as we could. Lori cautioned us to not over-order so we wouldn't get stuck with inventory, but it's all gone."
"We're spending today and the rest of the week calling on wholesale customers to get orders," Erin adds, "so maybe you'll see these in stores for the fall. We have an order in with our manufacturer, so we hope to have more product soon. We were lucky our website held up, there were a few glitches with the shopping cart, but we never crashed. We went from 800 email subscribers to over 10,000 overnight; there are 4000 people on our alert list for product once we re-stock. It's amazing, we struck while the iron was hot."
Dealing with Sharks
We deal with Mike on Barbara's team quite a bit, but we talk to Lori and Barbara a lot too." says Erin, "We were still in the middle of negotiations, but once we got the air date, they amped it up and we had a lot of contact in those two weeks."
The ladies confessed their deal with Barbara and Lori changed, but they weren't at liberty to discuss the details.
"Even though we taped our segment," Jenny explains, "the producers tell you there are no guarantees you'll air. Since we did a deal, we were pretty sure we'd air, we just didn't know when. It's like being pregnant without having a due date!"
"We were prepared for the worst," adds Erin, "we actually found out when Jenny saw Lori on The View and she showed a clip of us."
The road to Shark Tank was interesting for Erin and Jenny. "We basically stalked a season one entrepreneur and asked her to give us an introduction," says Erin, "she finally gave in and emailed our information to her producer. We got a call about five hours later. I don't want to tell you who it was so nobody else stalks her! Once we got a reply from the producer, she said 'my work is done here.'"
The two women almost didn't tape their segment at all. They taped during September in the final days of the taping schedule on a Tuesday. Production delays bumped them from Tuesday to Wednesday – the final day of taping. They went on toward the end of the day, so they just made it.
"We kept plugging up to the day we taped," says Jenny, "preparing for Shark Tank is a full time job. We weren't at the point where Hold Your Haunches was paying the bills, so it was worth the effort."
"To get ready," adds Erin, "we watched every show and wrote down every question the Sharks asked. We read all their books, read all the blogs (including Shark Tank Blog), we even met with real life investment bankers. We had friends do mock Shark Tank pitches with us with them firing all the questions at us. If you want to go on Shark Tank, you have to study and we did."
"We were hoping to do a deal with one of the lady Sharks," says Jenny, "Daymond wasn't on the panel for our pitch, but we saw him on the lot. We weren't supposed to talk to him, but we don't always follow directions so well! Obviously Daymond, with his background, would be a good partner, but I don't know how he is with women's clothes. We wanted a lady Shark and we ended up with two."
It looks as if Hold Your Haunches is benefitting from the Shark Tank Effect. They sold 3700 pairs of pants in a little less than two days. At $139 a pair, even with the 20% "Shark Tank Discount" they were offering, that's HUGE numbers (do the math). With wholesale orders and a 4000 direct sales order backlog, Lori's on air prediction that Hold Your Haunches will be one of the big successes of season 5 will likely come true. Be on the lookout for a Hold Your Haunches update segment in season 6.
Parting Words
Erin and Jenny have a lot of personality. They're sassy southern lassies and I think they will be a huge success. Speaking with them on the Monday following their show was interesting. They were so punchy from lack of sleep, they let their guard down a bit. Erin apologized for being so sassy, but I loved it; I told her "Sassy sells!" They're the type of ladies I'd like to go have a drink with!
"We just kept pushing," says Jenny, " because we really believe a girl has a right to look tight."
"The thing is," Erin adds, "you have to believe in your product to move forward. We love what we're doing and we love the positive response we get from happy customers. Some people were upset we ran out of stock, but our customers came to our defense on our Facebook page. It's a great feeling."
I had one other question for Erin and Jenny. The answer on The Hot Dog Truck.