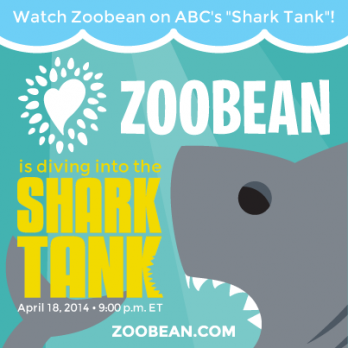 Felix Brandon Lloyd and Jordan Lloyd Bookey have a new way to keep up with the best educational books and apps with their curated kid's books service called Zoobean. They'll pitch their business in Shark Tank episode 529 on April 18. They call the service a "Pandora for children's apps and books." Felix, a former teacher of the year, and Bookey, former head of K-12 education at Google, use expert educators and librarians, as well as engaged parents, to improve kid's literacy.
They're passionate about their business, as evidenced by their press release. "At Zoobean, we know that parents and families play the most important role in building their children's literacy, and so we have set out to make reading a more accessible, ongoing family activity," said Bookey, Zoobean's Chief Mom. "As we approach our first anniversary as a company, we are ecstatic about sharing Zoobean with families across the country, and hope our segment inspires more people to join us in our mission to help kids imagine and achieve anything."
The curated kid's books service has two options. SmartList subscribers get an updated list of the best apps and books geared to a particular child's interests based on a profile their parents create. The SmartList provides book and app choices the parents can purchase or seek out at a public library. The "book of the month" plan sends a new book to a kid every month, along with a digital study guide. By providing a service for curated kid's books, Zoobean helps parents cut through a lot of the clutter out there in children's media.
My Take on Curated Kid's Books
I've said it before and I'll say it again. I have five kids and they are all good readers. If you want your kids to read well, YOU need to start reading to them at a young age; the more the better. I memorized "Go Dog Go," ALL the Curious George books, and countless others from reading to my kids over the years. We always tried to find things that revolved around their interests.
For instance, my son always loved fish. He liked to go fishing, he had a fish tank in his room (I think he has three in his dorm room now), and he liked books about fish. He showed an interest in a topic and we ran with it. The other day, I talked to him about the aquaculture project he was doing for his marine science lab. He's raising fish for human consumption and is considering aquaculture as a business when he graduates college. I'd say he followed his interests in his studies!
The anecdote about my son illustrates what Zoobean is trying to accomplish. By taking a lot of the research drudgery away from parents, the idea is they'll have more time to engage their kids. Pricing is fairly nominal: the SmartList service is only ten bucks a month. That's worth it in time saved running around/researching alone. The "book of the month" service, which includes the SmartList, sends a book to your kid every month. Parents will subscribe to this – just look at the success of the Dr. Zuess book subscription service over the years. If parents won't get it, it's a great gift item from a friend or relative.
Do Sharks Curate a Deal?
This is a tough one. The PR promos for this episode make a big deal about the fact that Zoobean only has 85 subscribers. To be fair, the company started in the Spring of 2013, so the business was only a few months old when they taped. The Google connection should impress Robert, Mr. Wonderful, and Mark – the tech investors in the Tank.
What Felix and Jordan will need to do is articulate how they can make money. My guess is they make money on the book of the month service and from affiliate links from the curated kid's books on the SmartList. If they can demonstrate the model works, they could see an offer or two. This segment could also get the "you have no business" edit, which would mean no deal.
On the Zoobean website, they're hiring home workers to do curation work, so that could signal a deal. It does signal they need help, which must mean they have more than the advertised 85 subscribers. Whether the Sharks bite or not, this is a service that can fill a niche. After all, if they are the "Pandora of curated kid's books," they are following a profitable model.