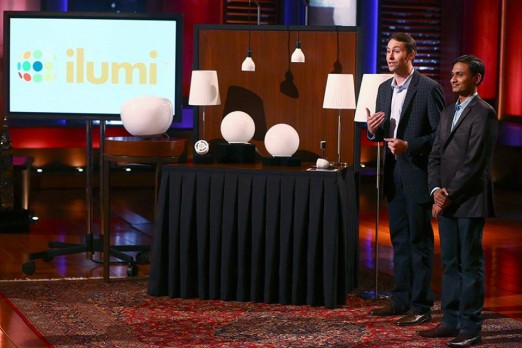 It seems smart phones can control just about anything these days and entrepreneurs Swapnil Bora and Corey Egan figured out a way for smart phones to control a smart light bulb. Ilumi, the world's first smart light bulb, was created by the pair back in 2010 when they met in business school. After winning the University of Texas at Dallas Business Idea Competition in November, 2010, they went on to win a half a dozen other business competitions. They also conducted a wildly successful Kickstarter campaign in November, 2013, raising over $145K. They raised another $60K on Indiegogo, too Next up for Swapnil and Corey is the Shark Tank on April 18, where they hope their success getting investors continues.
Ilumi is an LED lightbulb that screws into any standard socket. LED bulbs are the next big thing in energy-efficient lighting. They last up to 25 years, they're more durable than incandescent or fluorescent lights, they're smaller, and they use far less energy. LED bulbs can also change colors and intensity. Now, with the Ilumi smart light bulb, you can turn your lights on and off, change their colors or dim them, and even synch them to music from your smart phone. The bulbs are controlled through bluetooth – light switches are now a thing of the past!
My Take on the Smart Light Bulb
My first thought when I saw this was "wow, this is cool!" My second thought was, "holy crap, these things are expensive!" There's no disputing the smart light bulb is a cool invention, but at $99 each, it's a very expensive light bulb! Of course when you factor in the energy savings and that they last over 20 years, the Ilumi bulbs are a much better value than regular bulbs, I just never saw a need to amortize light bulb purchases!
Cost aside, the smart light bulb is pretty cool. I don't know if they'll come down in price at all, but they're the future of lighting. Several stores and commercial buildings in my area refitted all their lights to LED bulbs and they give off a much brighter, yet softer light than the fluorescent bulbs they replaced. LED is the future and, at least for Ilumi, is now. I am "IN."
Do Sharks Light up over Ilumi?
Ilumi is on the cutting edge of new lighting technology. There are other LED bulbs that do the same thing, but Ilumi is the only smart light bulb that uses bluetooth. Other smart LED bulbs cost about the same, too. The issue is, will LED smart bulbs become a commodity product like regular light bulbs – if they do, branding won't mean much; after all, does anyone really care what brand of light bulb they use? Another objection the Sharks might have is could any big producer of light bulbs (GE, Sylvania, etc) come along and cut them out of the market?
Objections aside, I think the Sharks will be impressed. Even the Sharks can see the future when it's standing in front of them. The cost may be an objection, but that could be reduced if they buy and produce the bulbs in bigger quantities. I wouldn't be surprised to see multiple offers or even a group of Sharks teaming up to invest.