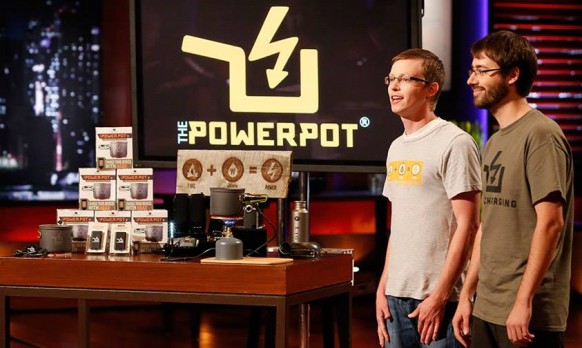 Caleb Light and David Toledo introduce the Shark Tank panel to their portable thermoelectric generator called the Power Pot in episode 524. The Power Pot is just one of the products their company, Power Practical, sells; they have other power-related products in development. David, the inventor of Power Pot, found a way to use the thermoelectric effect to charge USB powered products. In lay terms, the thermoelectric generator creates an electric charge from temperature differences on each side of a thermoelectric coupler. Since water in the Power Pot, even when it's boiling, is a lower temperature than the exterior of the pot (which is on a flame), a charge is created.
Having a thermoelectric generator handy comes in handy for charging devices when camping or during a power outage. A simple fire can now charge USB devices. It's a handy device for areas of the world with limited electricity too. Besides the thermoelectric generator, Power Practical sells lithium batteries, meters, camp stoves, USB camping lights and apparel. They have a few other products in the works, too.
The company got started with two successful Kickstarter campaigns for the Power Pot raising over $200K. They did two other Kickstarter rounds for other projects.
My Take on the Thermoelectric Generator
When I first saw Power Pot, I thought "why would I want to charge my cell phone on a camping trip?" I had visions of people sitting in a remote area sending Snapchats to their friends back home. Why in hell anyone would want to do that, I don't know. Once I backed up and realized there were plenty of other useful items the Power Pot could charge, I knew it was a winner.
When hurricane Sandy hit a few years ago, we lost power for three days. By day three, all the devices in our house were out of juice. Throwing a thermoelectric generator on the firepit out back would have made life a tad easier. When I used to go camping back in the day, we used standard batteries for our lights; there were no cell phones or GPS devices. These days, most things you'd want on a camping trip can get a charge from Power Pot. Since the thermoelectric generator is also a cooking pot, it's a doubly useful piece of equipment.
Do the Sharks see the Power?
The Power Pot is a real "gee whiz" product. There's nothing else out there quite like it and the applications for both the product and the technology are vast. The Sharks will recognize this and I predict a bidding war will ensue. Robert, who is the most "outdoorsy" Shark will make a bid. Lori could bid too, if she thinks Power Pot will appeal to the QVC crowd.
Daymond, even though a thermoelectric generator is out of his area of expertise, could make a play too. Mr. Wonderful will undoubtedly have issues with the valuation and will bid the value down (whilst throwing in a royalty too). David and Caleb are exactly what Mr. Cuban likes in an entrepreneur: they're smart, they know what they're doing with their business, and they don't need babysitting. The company recently completely overhauled their website and it's hosted by Rackspace – that's Mark's "pet" hosting company. I'm thinking Cuban does a deal with Power Practical.
Shark Tank Blog did an interview with Caleb and David prior to their air date. Read about them here.