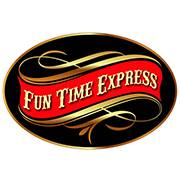 Stan Krozel and Kevin Ullery are two guys from Chicago who like to ride their train while running their business called the Fun Time Express. They'll be pitching the company in Shark Tank episode 524 on April 11. Fun Time Express is a trackless train amusement ride the business partners operate in 7 malls in Indiana, Illinois, Florida, Louisiana and Ohio. The locations are individually owned and managed, Stan and Kevin must have some sort of franchising arrangement.
It's a simple business they appear to have a lot of fun with. They set up shop in a mall and give train rides to young and old alike. A typical ride around an entire mall takes about 7-10 minutes. The Sharks even go for a ride during the pitch. The trains aren't cheap looking either, the detail looks like an old-fashioned steam engine with passenger cars.
Their trains are manufactured for them in the USA, it's unclear whether the Fun Time Express train is proprietary. They want to pitch mall owners on their concept and put a train ride in every mall across the land. Rides aren't expensive, but having the ride set up in a mall is another profit center.
My take on Fun Time Express
With five kids, I've been on plenty of kiddie rides in my time. Who can resist a train ride – kids go nuts for this kind of stuff; nowadays they want to borrow the car keys! If I saw a ride like this when the kids were little, I took them on it. That's the kind of dad I am! Most parents would probably drop a few bucks to take their kid on a ride like this.
Do Sharks pay for their train ride?
This business has me puzzled. Their website has been under construction for a few weeks now, I'm not sure it will be ready by show night! The play is probably some sort of franchising/business opportunity deal. The Sharks don't go in for franchises, but if Fun Time Express has a proprietary deal for manufacturing the train, they might spark some interest. I can't see Lori going for this; I don't think Daymond plays either.
Mr. Wonderful will undoubtedly need to find a way to get a royalty on every ride. Robert may bid if he believes the business can grow without a lot of help from him. Mark could bid, but only if Fun Time Express manufactures the train. I am not sure if they'll get a deal or not, but it looks like we're in for quite a ride.