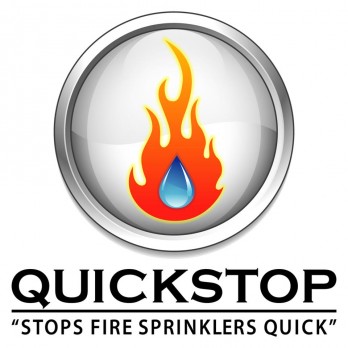 Matt Scarpuzzi pitches his Quick Stop Tool to the Sharks in episode 524. Matt is an engineer and a paramedic who developed the tool to stop fire sprinklers that have malfunctioned or been damaged from spraying water all over homes and businesses.
Fire sprinklers are supposed to put out fires, but when they go off when there isn't a fire, they make a big mess. Water damage claims from broken fire sprinklers run in the billions of dollars yearly, keeping Scarpuzzi's Quick Stop Tool on hand can prevent it from happening in your home or business.
The Quick Stop Tool is like a specialized vise grip wrench designed for clamping a malfunctioning sprinkler valve shut until the water main can be safely turned off.  He originally created the Quick Stop Tool for firefighters, but there was a lot of interest from building owners and property managers who wanted a few on hand in their buildings. There's even a residential version for homes with sprinkler valves.
The business is located in San Diego. Scarpuzzi is committed to manufacturing in the USA and he uses local professionals for business purposes. The Quick Stop Tool was founded in 2005, but it's only been selling for a little over a year or so. The tools are available on his website, but it appears he does a lot of direct marketing to fire departments as well.
My Take on the Quick Stop Tool
I think this is a very useful tool that every building with sprinklers should have. I don't have any in my home, so I'm not a customer; but if I did, I'd get one. There are so many things (besides a fire) that can cause a sprinkler to start spraying water, it makes sense to have a tool around for emergencies. I think every building with sprinklers needs at least one Quick Stop Tool.
Do Sharks Sprinkle Cash?
Every one of the Sharks will see the need for the product and think it's a great idea, but I don't see a deal here. Lori won't want anything to do with it – she can't sell it on QVC! Kevin won't like the price of the tool and he'll say it should be made overseas to get costs down. Robert might make an offer, but he'll ask for too much equity if he does. I can't see Daymond getting excited about this either. That leaves Mark, and given his history partnering with firefighters, I think he'll be out.