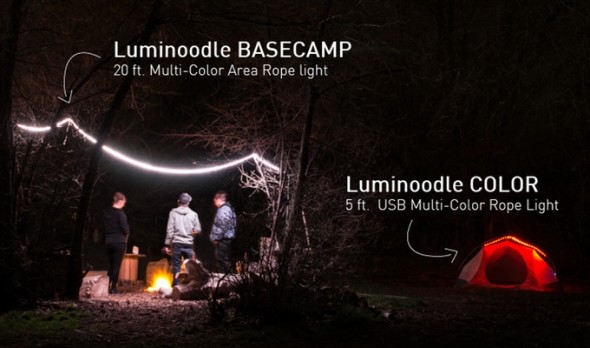 Luminoodle Basecamp is the latest innovation from the folks at Power Practical. Back in season 5, Mark Cuban invested in the business when they presented the Power Pot – their thermo-electric generator that charges electronic devices with heat. Since then, they've continued to innovate with new products and new ways of bringing them to market.
Last year, they expanded their product line to include the Luminoodle – a five foot, USB-powered, LED "light rope" for use in the out doors. As detailed in an interview with co-founder Caleb Light, they successfully brought the product to market with a Kickstarter campaign. Caleb and his associates have mastered Kickstarter: in six successful campaigns, they've raised over $1.5 million dollars! I recently spoke with Caleb to get the skinny on their latest (soon-to-be) success story.
Luminoodle Basecamp
The latest product from Power Practical is the Luminoodle Basecamp. Basically, it's a Luminoodle that's 20 feet long with different colored lights and a remote control dimmer switch that can also fade and strobe. While the product is cool and innovative, it's Power Practical's approach that is the real innovation. They are re-writing the book on how to crowdfund new products.
"Basically," Caleb explains, "we are replicating the same model, but we are leveraging crowdfunding in new and different ways. When the original Luminoodle got funded, we shipped out 15,000 units. We sent a survey to approximately 5000 customers asking them how we could make the product better. We had 2000 people respond – which is a tremendous amount – and we took the top five suggestions. In effect, we crowdsourced our product innovation."
While Mark Cuban is still involved with Power Practical and Power Pot, Caleb and the team don't draw on him for their crowdfunding projects.
Kickstarter Success Through Innovation
"Our thoroughness is part of our success," Caleb continues. "That's led us to creating a community that trusts us. We also tell a good story. That's enabled us to use Kickstarter as a core part of our marketing strategy and our business as a whole. People who go to a Kickstarter campaign go to the page to consume a lot of information about a product. It's a lot like a 'long sales letter' in that respect."
"Our model is to harness the crowd in several ways. People who spend money with us are willing to give us feedback, which in turn gives us good conversion rates. When we did our first Kickstarter in 2012, we spent more time educating people about crowdfunding, now we have them not only supporting our products, but providing information."
Three days into the campaign, when I spoke to Caleb, they'd already tripled their $25K goal. When I sat down to write this post, they were at $126K!
"Our funding goal is arbitrary," Caleb explains. "Kickstarter SEO relies on how quickly projects fund in relation to their goals. The quicker the funding comes in, the longer a project stays on Kickstarter's front page. Once a project is funded, it becomes 'real' to Kickstarter and the greater community. When a project is successful, there are PR benefits, too. Other media outlets pick up on it and it perpetuates momentum in the project."
To date, Power Pot has doubled its revenue from 2014-2015 and the company sold over 60 kilometers of Luminoodles. Based on the current track for the Luminoodle Basecamp, they should be eclipsing that number with the first round of production.