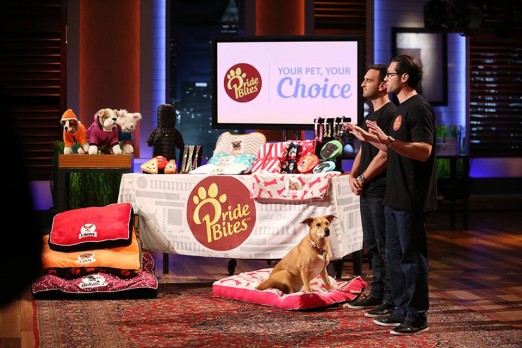 Sean Knecht and Steven Blustein, who present Pride Bites in Shark Tank episode 728, love playing with their dogs. That's why Blustein invented the custom pet accessories company – he was sick of cheap dog toys that fell apart after a few uses. He also wanted to create something a bit edgier than the standard, "looks like a bone," dog toys that were out there.
Pride Bites makes dog toys out of a heavy foam interior that stands up to a dog's rough play. Then they wrap the foam in whimsical exteriors: a martini, a piece of pizza, an ice cream cone, or a bottle of Sriracha sauce. You can even get your pet's name embroidered on the customized dog toys. The company also sells collars, beds, blankets, leashes and more. Each item they sell offers a multitude of color combinations and other custom options.
The company stays current by constantly adding new designs and using the best, pet friendly, non-toxic materials. After having some initial success in the retail space, they decided to take the company online and go direct. So far, it appears they are having some solid success, but will it be enough for a Shark to lay down some cash?
My Take on Pride Bites
My dog is getting old, but she still loves a good, old-fashioned game of fetch. Over the years, we've had many dog toys made from everything from old fire hoses to solid rubber to rope. She gets so excited when I go out to the yard and say "go find your toy!" What follows is usually 5-10 minutes of intense frolicking and play.
Any dog owner knows the fun and fulfillment of bonding with their pet through play. We love our dogs. Companies like Pride Bites understand this and leverage that love for profit. Many of their products are things we already have: Sherpa blankets, collars, leashes, and toys. Most, if not all, of the dog accessories I personally own were purchased at a retail pet shop, but our dog is 15 years old and when we bought a lot of these items, online shopping wasn't as ubiquitous as it is today. If we ever got a new dog, I'd imagine we'd buy it some goodies online, and companies like Pride Bites would likely get a share of our spend.
The only reservation I have about their products is their toys. To be fair, we've never owned one, but they look like plush toys. Our dog DESTROYS plush toys in a matter of minutes. They claim their interior foam is tougher than the standard plush dog toy, and maybe it is, but my dog would likely do her best to test the limits of that toughness. Maybe she'd treat a toy Martini gentler than a hunk of fire hose, but I doubt she knows the nuances of a good Martini! If the toys can stand up to my dog's abuse, I'm in.
Do Sharks Put on the Dog and Invest?
Pride Bites won a Pet Business Magazine pet toy of the year award in 2012 and they've had a lot of success getting on the shelves in large and small pet shops. The custom angle is new for pet toys, and it'll likely be imitated. On the surface, it looks like sales are strong, which should please the Sharks. Unless their shift to online focused sales is covering up a dark, retail horror story, they should attract some interest if the valuation is solid.
Daymond, who had success with TurboPup in season six, is on the panel for this show. He took that business from just $7,000 in sales to numbers approaching the million dollar mark. He did this by getting TurboPup into over 700 PetSmart locations. While Pride Bites has experience in pet retail, a little juice from Daymond would certainly help their bottom line. Daymond seems like the logical partner, so I wouldn't be surprised to see him make an offer.