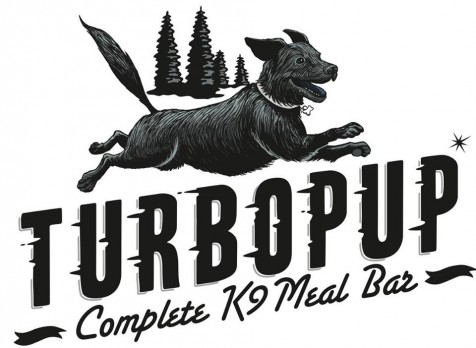 Former Air Force Pilot turned entrepreneur Kristina Guerrero introduces TurboPup, her energy bars for dogs, in Shark Tank episode 619. Guerrero served in Iraq and Afghanistan; in Operation Enduring Freedom, Operation Iraqi Freedom, Horn of Africa and has two combat air medals. When she's not working on her business, she spends her time hiking and skiing in Oregon with her husband, Brandon Sylvester, and their dog Dunkan (the original TurboPup).
TurboPup is an energy bar for dogs that's about the size of a smart phone. Guerrero created the product to avoid having to lug bulky dog food on her many outings with her husband and dog. Brandon, a former food scientist for Dannon, helped develop the product and makes them in the couple's kitchen.
TurboPup bars are available online and at mom and pop pet shops in 18 states. She's likely looking for a Shark's help getting national distribution in big box pet stores.
Will a Shark bite on TurboPup?
TurboPup Shark Tank Recap
The segment opens with Kristina, Brandon, and their dogs in an "at home segment." She needs someone with business savvy to help her succeed. Kristina enters with her dog Odin seeking $100K for 20% of the company. She explains her product and why she created it. Odin gobbles up a sample as she hands them out. Robert, predictably, warms up to Odin.
Kevin wants to know what makes it different from other treats, she explains it can replace a meal. She has sales of $7000 this year. The Sharks ask about her background and she gives her military resume and the Sharks thank her for her service. Her original strategy was to approach outdoor stores where there's no pet food competition. She's begun conversations with more stores.
Mark says he doesn't know her business, he's out. Robert agrees with Mark, he's out. Lori isn't sure about the market and thinks slow growth is a good strategy, she's out. Kevin thinks sales are way too low, he's out. Daymond says he's on the fence, but he offers $100K for 40% because he likes her military discipline. Kristina counters with $100K for 35% and Daymond accepts!
RESULT: DEAL with Daymond for $100K for 35%
TurboPup Shark Tank Update
The Shark Tank Blog constantly provides updates and follow-ups about entrepreneurs who have appeared on the Shark Tank TV show. TurboPup gets a featured update segment in episode 719 – season 7's "military special."
In the update segment, Daymond meets Kristina in Phoenix at Petsmart HQ. Daymond helped TurboPup get into 700 Petsmart locations quickly with brand new packaging. The Petsmart executives are excited, since there aren't any other products like it on their shelves.
TurboPup has over $200K in sales since doing the deal in the Tank and they should go to over $1 million this year. Kristina says Shark Tank recognizes veterans have a lot to bring to the business community and getting a deal has been a big help to TurboPup.
The business gets a segment in Beyond the Tank episode 104. Read about more of their progress HERE.
In January, 2022, the company went out of business. Kristina is now a pilot for American Airlines.
Posts About TurboPup on Shark Tank Blog
TurboPup Company Information
Video