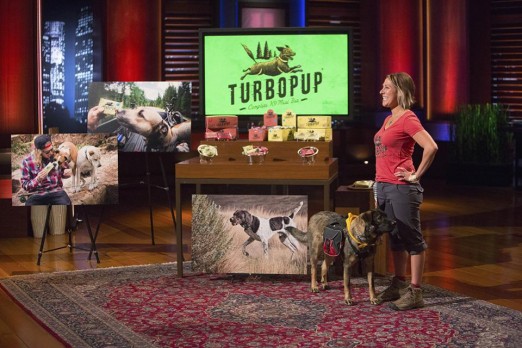 Kristina Guerrero, a decorated former Air Force Pilot, and her dog Odin pitch Turbo PUP, an energy bar for dogs, in Shark Tank episode 619. The business name, Turbo PUP, is a spin on the type of planes she used to fly: C-130 TurboPROPS. Guerrero, now retired from active duty, spends a lot of time outdoors with her dog and husband. They do a lot of hiking in their home state of Oregon and she found it cumbersome to pack dog food for their longer adventures, so she invented a high energy snack she could easily tote in her pocket.
TurboPUP is 100% American and it's the official dog food of the National Association of Search and Rescue. Each energy bar contains human grade, all natural, grain-free premium ingredients. As she jokes on her website, you can eat them, "I'm not sure your Turbo PUP would approve."
She started out making the Turbo PUP bars in her kitchen with the help of her husband, a retired food scientist who used to work at Dannon. Since starting the business in 2011, they've slowly and steadily grown the business. They sell the Turbo PUP bars on Amazon and in pet shops in 18 states. They don't have a "big box" pet store presence yet and they likely want a Shark's help with that and with getting a production facility.
My take on Turbo PUP
I love my dog. She's getting old, so we don't walk too far anymore, but when she was younger, we were always out romping around. She likes to eat, too. We feed her a combination of dry kibble and home-made dog food, along with the occasional treat. When we hit the beach, she loves to come along and swim. We usually bring a bowl of water and some snacks for her.
I am sure she'd like Turbo PUP bars, she hasn't met a food she doesn't like! Unfortunately for her, she doesn't do the food shopping – I do. At $3-$4 a bar, TurboPUP is a pricey snack, but as a meal "replacement" while away from home, it's reasonable. I'll probably pick some up to see if she likes them!
Do Sharks Turbo Charge?
Guerrero and Turbo PUP have a big problem in the Shark Tank: pet products usually don't fare well with the Sharks. Even Shark Tank casting director Scott Salyers says entrepreneurs should "avoid pitching products for babies or pets" in the Shark Tank.
Sure, there will be the inevitable visit by Robert who will want to pet Odin, but the Sharks don't invest in pet foods. The real fun will be to see if the Sharks taste the product! I don't think Turbo PUP will get a deal, but I bet they sell a ton of energy bars and we'll see them in the Petcos and Petsmarts of the world before long.