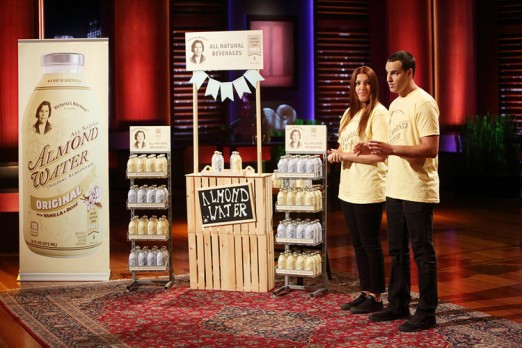 Deborah and David Meniane pitch David's grandma's almond water recipes when they seek an investment from the Sharks in episode 620. The Menianes, immigrants from France, always made the light, refreshing beverages at home; they began bottling almond water in 2011 when friends kept asking them to make some for them. Even though the recipe for Almond Water is fairly simple (there's a recipe on the company website), it is time-consuming to make; having a bottled version is much simpler.
David makes his almond water from a recipe his grandmother handed down. He has fond memories of visits to her house with his cousins. Grandma would always have some fresh and refreshing drinks ready for the thirsty kids. He honors her contribution by naming his business after her.
Almond water contains purified water, cane sugar and natural flavors and extracts, plus a little citric acid for FDA regulations about pH levels; each bottle is made with "100% pure grandma love." There are three flavors: original, almond/coconut, and ginger infused lemonade. Each drink is gluten and lactose free and contains only 55 calories. David likes to make cocktails with his almond water and has a few recipes on the site. The Menianes make no health claims about their product, in fact, they go out-of-the-way to say it doesn't boost energy or give you a gazillion vitamins; they bill it as a simple and tasty drink.
With retail presence on Amazon and in three dozen natural grocery chains (around 800 stores in total), Victoria's kitchen is off to a good start with distribution. The next step is getting into the BIG grocery chains on a national level.
My Take on Almond Water
One of my favorite drinks is a good Arnold Palmer. I make them fresh by the gallons in the summertime using real sun-brewed tea and fresh squeezed, home-made lemonade. They are so much better than soda. Almond water is shooting for that same refreshing and natural taste. I never tried one, but they sound good to me. If I saw it in a store, I would definitely try it.
It appears the masses like the stuff, too. A product doesn't get penetration into 800+ stores unless it sells and it wouldn't continue to sell if it wasn't tasty. The one thing I think they need to improve upon is the branding. With all due respects to grandma, the name "Victoria's Kitchen" doesn't say "refreshing beverage" to me; it sounds more like a restaurant or bakery name. Irregardless, if the stuff tastes good and it sells, it looks like a winner.
Will Sharks Test the (Almond) Waters?
Consumer products are a tough call. The amount of work getting on the shelves (and staying there) is a time-consuming and continuous endeavor. Logistics can be difficult, too. With a company like Victoria's Kitchen, the people behind the product are just as important as the product itself.
The Sharks will want to know about things like per-unit cost, sell through, and manufacturing processes, but those discussions don't often make for good on-air fireworks. We'll likely see some debate about the valuation and some of the Menianes' business decisions, but the proof will be in the taste. If the Sharks like the almond water, there should be one or two bids. My guess is Barbara, Kevin, and Lori will be the Sharks most interested. Robert an Mark rarely bid on consumer good companies. I think Victoria's Kitchen fields an offer.