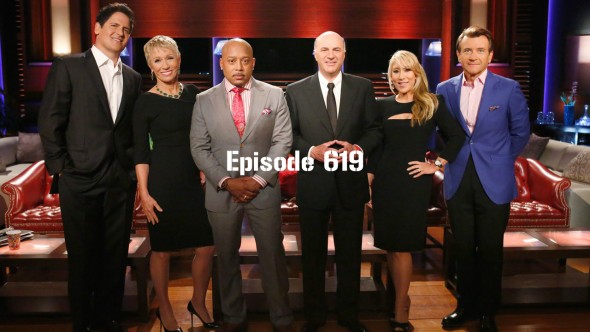 Shark Tank Episode 619 has four new, hopeful entrepreneurs seeking an investment with one of the wealthy and business savvy Sharks. Joe Chay gets some help from his friends, actor Dean Cain and UFC fighter Uriah Faber, when he pitches his custom tailoring business called Bello Verde. Decorated Air Force Veteran turned entrepreneur  Kristina Guerrero hopes the Sharks like TurboPUP, her line of  "Complete K9 Meal Bars," enough to invest. Max Gunawan sheds some light on the Sharks when he pitches his wildly successful Kickstarter and elegant lighting solution called Lumio. Also appearing are "a pajama-clad duo from Menlo Park, CA want to help America one nap at a time with their wearable technology."
Which businesses get a deal and which are Shark bait?
Erin Bickley and Jenny Greer struck Shark Tank gold when both Barbara and Lori invested in Hold Your Haunches, a line of butt slimming pants, in episode 519 in season five. In the immediate aftermath of the show's original air date, Hold Your Haunches sold out of stock. We'll see how they've progressed in episode 619.
There are 28 Shark Tank Episodes for Season 6. This season features two new Sharks and a host of other surprises. Casting is currently closed, but it never hurts to get a head start on season seven! If you would like to appear on the show, check out our Auditions and Casting information.
Episode 619 – The Shark Investors and Entrepreneurs
The Shark Tank Episode 619 entrepreneurs will make their best pitch to the panel of five Shark investors who will use their own money if they choose to invest. The Shark Investors negotiate on the spot without any previous information, which differs from typical negotiations between venture capital investors and entrepreneurial start-ups.
Companies pitching the Shark Investors must go through a rigorous due diligence process before an on-air deal is completed. Shark Tank Blog follow ups help you keep track of the companies that end up successful and the ones that don't complete their deal.
Thank you for reading SharkTankBlog, the number one site for Entrepreneurs, Investors and Fans. Our content updates multiple times day, giving you the latest information on Episode 619, Season 6, and all other seasons and episodes.
Episode 619 Press Release
Actor Dean Cain and Pro Fighting Champion Uriah Faber Join an Entrepreneur in His Bid

"Episode 619" – The Sharks are illuminated by a unique and elegant lighting solution designed by a man from San Francisco, CA, and a pajama-clad duo from Menlo Park, CA want to help America one nap at a time with their wearable technology. Other pitches include a former Air Force Captain and dog lover from La Pine, OR who has created a complete food bar for canines, and actor Dean Cain and pro fighting champion Uriah Faber join an entrepreneur from Columbus, OH in his bid to get the sharks to invest in his business for custom-tailored suits. Also, an update from Erin Bickley and Jenny Greer from Macon, GA who invented Hold Your Haunches, slimming pants that give instant, built-in uplift to one's derriere, that Lori Greiner and Barbara Corcoran invested in during Season 5, on "Shark Tank," FRIDAY, JANUARY 16 (9:00-10:01 p.m., ET) on the ABC Television Network.

The Sharks in this episode of "Shark Tank" are Mark Cuban, Daymond John, Barbara Corcoran, Robert Herjavec and Kevin O'Leary.