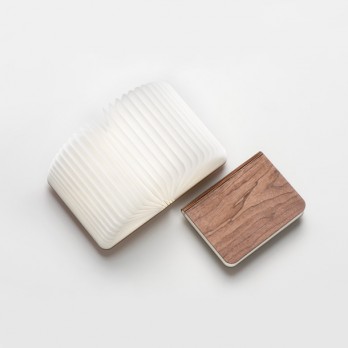 Max Gunawan lights up the Shark Tank with Lumio, a lamp that folds up into a hard cover book, in episode 619. Gunawan, an architect turned entrepreneur, started the company in 2013 with an amazingly successful Kickstarter campaign that raised $578,387 on a $60,000 ask. His inspiration for Lumio came when he couldn't raise enough capital for a modular folding home concept, so he downsized to a folding lamp.
The Lumio comes in wood finish. When opened, the LED light "pages" unfold like a book. It uses a USB charger, so it's completely portable and compact when not in use. Accessories include wooden pegs for mounting and a leather strap for hanging.
Lumio retails for $190 and is available on the company website. It's also available internationally at various museum shops and catalogs. Mr. Gunawan is likely looking for a Shark's help with broader distribution and for cash to fund production.
Will Lumio light up the Shark Tank?
Lumio Shark Tank Recap
Max enters seeking $250K for 8% of Lumio. When he opens Lumio and demostrates it, the Sharks "ooh and ah." He hands out samples and the Sharks think it's "so cool." Max explains he wants the product to be beautiful and functional.
The did $1 million in sales, including the Kickstarter money. He sells it for $190 and builds it for $65; margins the Sharks like. He sells most of his product at museum stores and online. Max is having difficulties fulfilling orders, but he'd like to eventually go to retail. His vision is to come out with a mini version for travel. Estimated sales are $2-2.5 million for 2014.
Robert likes the product. He offers $250K for 10%. Max wants to hear from the other Sharks. Kevin thinks it's undervalued. He offers $250K for a 7% royalty until he gets $500K back then he maintains 4%. Mark wants to sell online, he offers $500K for 16%. Lori offers $250K for 12% PLUS a $250K line of credit; she'd like to offer it in different colors. Daymond offers $750K for 12% plus a $10 million line of credit.
A Shark fight ensues as Daymond and Kevin squabble. Kevin summarizes the deals on the table as Max agonizes. Robert then modifies his offer to $350K for 10% and Max says "we have a deal!"
RESULT: DEAL with Robert for $350K for 10%
Lumio Shark Tank Update
The Shark Tank Blog constantly provides updates and follow-ups about entrepreneurs who have appeared on the Shark Tank TV show.  The deal with Robert never did close but this business is doing gangbuster sales on Amazon. Since airing, they added a Lumio Mini and the Teno Bluetooth speaker. As of January, 2023, they are still in business with $5 million in annual revenue.
Posts About Lumio on Shark Tank Blog
Lumio Company Information
Video