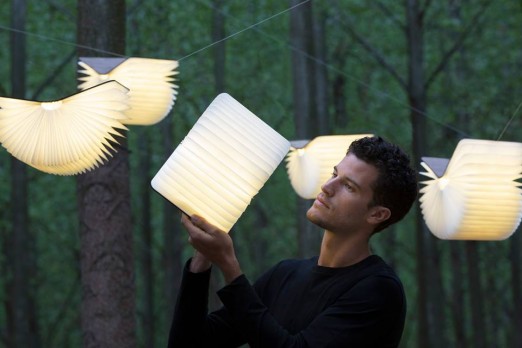 Max Gunawan pitches Lumio, a self-described "book lamp," in Shark Tank episode 619. He didn't set out to create a book lamp at first; Max is an architect who was conceptualizing a modular folding home when he scaled down due to lack of funding. He was thinking of ways to make an LED lighting fixture in a compact and portable form, the inspiration came from his Moleskine notebook and is based on the idea of a "book that illuminates."
When the Lumio isn't in use, it folds up and looks like a hard cover book. When it's open, it can hang, lie flat, or open 360 degrees to form a cylindrical shape. The book lamp "pages" are actually LED lights; the "cover" is also magnetized, so it will stick to any metal surface. Lumio recharges its lithium battery (up to 8 hours per charge) via a USB port.
Lumio had one of the most successful Kickstarter campaigns of 2013, raising over half a million dollars and was voted one of the "Top 10 Most Innovative Crowdfunded Companies" by Entrepreneur magazine in 2013.
My Take on the Book Lamp
This is a pretty cool looking product. The portability and versatility definitely make it that little bit of "extra cool." A lot of other people like Lumio too, hence the success on Kickstarter; when people pony up cash before a product is even made, it's the best testimonial you can get. I would definitely want my own book lamp.
Upon further investigation into Lumio, it appears they had some difficulty fulfilling the initial Kickstarter orders and the first production run had its quality problems. There are over 1000 comments on the Kickstarter page, mostly backers complaining about not receiving their orders. The complaints trickle off in the fall of 2014. The Lumio Facebook page had similar comments, but the more recent ones (past 6 months) are from happy customers.
Do Sharks Light it up? (SPOILER ALERT)
The Sharks are going to "ooh and ah" over Lumio. It is, like the ABC promos say, an elegant light. Gunawan is no shrinking violet, either; he spoke at TedX and he's very smart and articulate. He will be as impressive as his product, so he should field multiple offers. I think he does a deal too, here's why:
Many start-ups have issues, especially with production and fulfillment, so these types of comments aren't uncommon, nor are they a surprise to me. On the surface, it would seem Lumio is the perfect Shark Tank candidate: they have a cool product people want, proof of concept, and they need a Shark to help with logistics and production. The timing of the "disappearance of problems" from Facebook and Kickstarter does raise an eyebrow, though.
Based on the information in the ABC press photos, Lumio taped their segment on September 15, 2014. The last negative comment on either Facebook or Kickstarter appears on October 11, then there are no more. Does this indicate a deal with a Shark? Wait, there's more….
Mark Cuban came out with a "must-have presents for men" list prior to the holidays. One of the gifts he touted was Lumio. He called it "the coolest light I have ever seen." Incidentally, he also had Bon Affair, the wine spritzers he invested in last season, on the list.
Maybe I am jumping to conclusions, but I could see Cuban investing in Lumio just because it's cool. With his resources, he could help smooth out production and logistics issues overnight (kind of like what happened). He's also obviously willing to tout products he has an interest in. My guess is Cuban does a deal with Lumio.