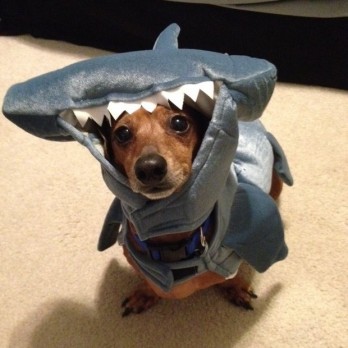 Stephanie Boone's dog, Luna, almost died using a chemical, commercial flea control product. Instead of putting her down, she did some research and started creating green pesticides for pets as an alternative to the harsh chemicals available in many pet stores and veterinarian offices. Her dog got better and before long, she and business partner Laura Alter, were creating organic pesticides for people, pets, and the home. They'll pitch their company to the Sharks in episode 725.
The pair built the business from an idea in 2010 to a vibrant, online sales company. They employ 10 people and sell flea and tick control products for pets, insect repellents for people, and a host of home pest control products. Wondercide is readily available on Amazon, the company website, and a host of online retailers.
There are no harmful chemicals in any Wondercide products. Most US homes contain numerous chemical pesticides and other products that dramatically increase the chemical level in the bloodstream of both people and pets. Wondercide wants to get the chemicals out and get "the good stuff" in. They likely want a Shark to help with expanding their distribution.
My Take on Green Pesticides
When I started researching this business, I went through my house and looked for all the "nasty" pet products, pesticides, and other chemicals we used in our home. I was a bit shocked; we had some scary stuff lying around. We've treated our dogs with a flea control product for years. Once applied, the directions say not to touch the dog for three days because it could cause illness in humans. I can't imagine it was good for the dog, either, but I didn't know there was an effective, organic alternative. Controlling fleas and ticks (especially ticks) is important. Tick-born illnesses can kill a dog, the preventive measures should not.
Wondercide appears to have a mature, stable business with good products that sell well. I am sure their sales top well over $1 million per year, so I'm wondering why they want a Shark. That said, I think the business is sound and fills a large need. For that reason, I'm IN.
Do Sharks Bite on Wondercide?
The Sharks will like the product and they should like the sales figures. What they may not like is the valuation. Many times in season 7, we've seen strong businesses decline on Shark offers because they eat up too much equity. Wondercide may be one of these pitches.
Why would a growing business with millions in sales give up 20% or 30% of their business to a Shark? It makes sense for new businesses where the Shark Tank Effect can catapult them into the stratosphere, but for a strong business, just appearing on the show will give them a boost.
I wouldn't be surprised to  see a deal done on the show, but I could never imagine it closing.