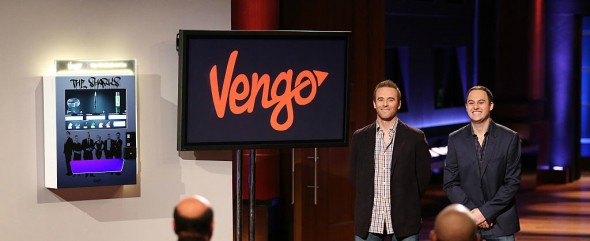 Steven Bofill and Brian Shimmerlik want their smart vending machine to go where vending machines have never gone before. The small-sized machines fit anywhere you could hang a picture and sell small items like gum and mints, or even toothbrushes and ear buds. The technology lets the machine owner track sales via smart phone and the video screens promote brand engagement. They hope the Sharks like their new vending machine when they pitch it in episode 725.
Originally called Taxi Treats, Vengo started in 2012 and put their first vending machine into service in early 2013. They're now in dozens of locations throughout New York City, mostly in places where traditional vending machines can't get placed due to space constraints. Imagine staying in a hotel and you see a Vengo machine next to the elevator selling toilette items, or you're in a gym and you see a Vengo machine selling ear buds (which you forgot). By placing a vending machine at the point of need, they can capture the sale.
The video screens allow for engaging content as well. Video, photos, or just about anything that displays on a screen can pop on a Vengo machine and the content can get changed remotely, too. They also network their machines, so an owner/operator with a lot of machines can manage what needs restocking and what the most popular items are without schlepping out to the machine every day.
Vengo likely wants a Shark's cash to help fund expansion.
My Take on the Vengo Vending Machine
I actually dabbled in the vending business in the early nineties. It was a side business and we had a dozen bulk vending machines – the kind that gives you a handful of M&Ms or peanuts for a quarter. We broke even as sales were less than outstanding and machines broke or simply disappeared. It was a good lesson in business and I realized I didn't want to become a vending machine owner/operator. Making money that way involves massive scale that requires a full-time commitment.
That said, the ability to place a Vengo vending machine just about anywhere gives them a competitive advantage. If someone already in the business wanted to expand their reach and locations, Vengo offers a solution. It also gives brands the opportunity to present a brief message in places without that kind of space.
I like the idea and I like the fact that it puts vending in places where no vending machine has gone before. For that reason, I am IN.
Will Sharks Vend with Vengo?
Steven and Brian are both smart guys with a vision who've managed to grow their business themselves. I don't think they are looking to the Sharks for help with the business side of things. I think they have a plan and need cash for expansion, so they'll need to demonstrate solid sales growth with increasing demand. If they can do that, they may field multiple offers.
Think of how many Shark Tank products would fit in one of these machines. The Sharks might also like the idea of mini profit centers all over the country. If the numbers are sound and the pitch is good, I can see any of the Sharks, with the exception of Lori, making a bid on Vengo.