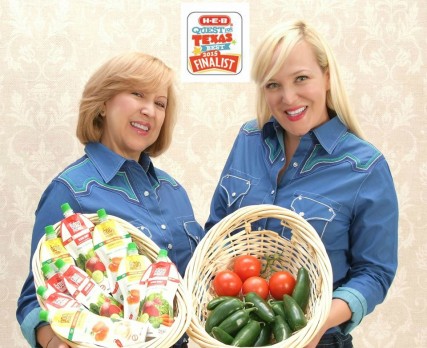 Karen Posada started The Good Promise to make snacks that were "nutritious, convenient and delicious." She was sick of settling for junk food snacks and drinks when traveling around with her family, so she invented portable smoothies, packed with healthy and natural ingredients. She hopes the Sharks like The Good Promise when she pitches her business in episode 725.
Posada thought she'd won the retail lottery when she got shelf space in 300 Wal Mart stores a few years ago. She was selling her organic pasta sauces under the name "Animeals.' Unfortunately, the sauces didn't move off the shelf, due in large part to Wal Mart's competing store-brand products that sold for half the price.
Instead of wringing her hands in despair, she re-thought her strategy, re-branded her products, and re-packaged her smoothies into drinkable pouches. She also prices the smoothies below two bucks – a benchmark price at Wal-Mart. She's now positioned with other, more expensive fruit juices, which should help her product stand out.
Posada co-packs the Good Promise products in Texas and New York. The soft packaging – as opposed to the original jars her sauces came in – provides for cheaper freight, so she can keep costs down. With a solid relationship with Wal-Mart in place, she's likely looking for a Shark to help with filling purchase orders and expanding distribution.
My Take on The Good Promise
I make smoothies at home all the time. They're healthy, tasty, and easy to take on the road in a travel cup. I realize there are a lot of people – myself included –  who'd want a quick, "grab and go" alternative to breaking out the blender and making a smoothie. Getting the products into more retail locations besides Wal-Mart is a necessity for the business to be successful.
I think getting mass convenience store distribution would up the impulse purchase activity for The Good Promise. If the smoothies were side-by-side with other energy drinks and sodas, a lot of people would opt for the smoothie when popping in for a cold drink; I know I would. If Posada can get into more locations, I am IN.
Will Sharks think this is a Smooth Investment?
Posada's Wal-Mart experience is both a blessing and a curse. On one hand, the Sharks will admire the work she put in to get on the shelves in the first place; a lot of entrepreneurs want the Sharks to get them on the shelves when they enter the Tank. On the other hand, her products didn't sell at first, for the reasons mentioned above, so she may face pressure there.
Even with her new strategy, she'll need to show solid sales activity with the new products to get a Shark to consider her business. Without Barbara Corcoran on the panel, who has a strong track record with food-related products, Posada faces an uphill battle. None of the panelists regularly bid on food items. Unless Karen has a sound valuation and solid, growing sales, she could leave empty-handed. That said, I'll be checking my local Wal-Mart for the Good Promise.