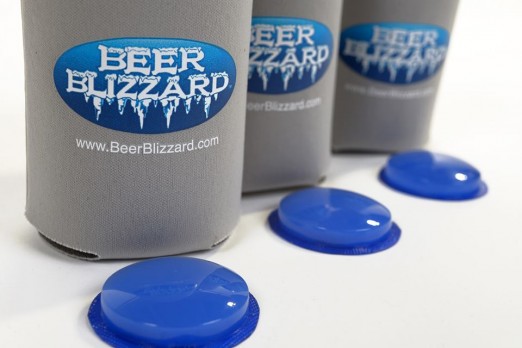 Is the Beer Blizzard the best invention of season 7 so far? Mark Cuban seems to think so and entrepreneurs Mike Robb and Tom "Ozzy" Osborne hope Cuban, or another Shark, invests in their product when they pitch it in Shark Tank episode 725.
Mike and Tom like their beer and they like it cold. Often, when drinking out of cans at the beach or anywhere else, the beer gets warm toward the bottom. The Beer Blizzard fixes that problem. It's a re-freezable disk contoured to nest inside the concave bottom of any beer or soda can. As long as the can stays in touch with the disk, the beer stays cold. It slides inside a koozie or works like a coaster. Whichever method you use, "from the first sip to the last your beer will be ice-cold!"
The Beer Blizzard works with bottles, too. Anyone who brings beverages to an outdoor event is a potential customer for this product. It's re-usable, not too expensive, and it works. At $12.99 for a six-pack of disks (with complimentary koozie) or $19.99 for a twelve pack (with two complimentary koozies), the amount of beer you'll save offsets the price in just a few trips to the beach. They likely want a Shark's help with mass distribution.
My Take on The Beer Blizzard
I like beer, so I may have to concur with Mr. Cuban on his assessment. I go to the beach a lot and usually bring canned beverages – bottles are frowned upon at the beach. Even when "protected" with a koozie, the beer gets warm fast in the hot Florida sun. There's nothing worse than setting your beer down for a quick swim and returning to warm piss. It's downright disgusting and a waste of perfectly good beer.
This product needs to have shelf space everywhere beer is sold. Many beer lovers would snatch it up on impulse. Unless you enjoy warm beer, this is a product for you. I am getting some because the beach season is here and just last week I experienced warm beer syndrome. For that reason, I am IN!
With Sharks think it's cool?
Mark Cuban is a beer guy, so he'd naturally love this product. The question is, would he be an investor or a customer? As always, it will come down to valuation, but the Beer Blizzard is a one product company. That could scare away the Sharks.
What the Beer Blizzard has in its favor is it's a low-priced product with mass appeal. The potential for a lot of sales over the next few years is a very real possibility. It's also a good licensing product. Budweiser or any other beer brand would love their logo emblazoned on this product. In many ways, it fits into Lori's portfolio best. She brings products to the masses quickly through infomercials, QVC, and mass retail relationships.
If the Beer Blizzard is valued properly, I think they'll field an offer or two. They'll definitely sell a lot of product in the aftermath; after all NOBODY likes warm beer.