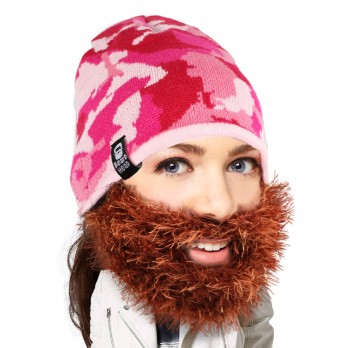 Why did Shark Robert Herjavec invest in Tipsy Elves but not The Beard Head? Both are novelty items riding a current trend: Tipsy Elves sells ugly Christmas sweaters and The Beard Head sells hats with built-in beards. You'd think Robert would want to replicate his Tipsy Elves success formula with The Beard Head. While there are a lot of similarities between the two companies, the differences are big enough to scare off potential investors.
The Beard Head: Not Capitalizing on a Trend
The ugly Christmas sweater has long been the joke in many romantic comedies. Like Colin Firth wearing a reindeer sweater in Bridget Jones' Diary, we can't help but giggle seeing grown adults reluctantly wearing goofy sweaters. With Robert's help, Tipsy Elves leveraged the ugly Christmas sweater tradition and turned it into a $15 million dollar business.
At first, you might think that The Beard Head could follow the same formula. The big difference is beards are a fad, not an ongoing tradition. Long before and after Tipsy Elves, ugly Christmas sweaters have been and will be around. Tipsy Elves capitalized on the trend and anticipated market saturation with viable product extensions at the ready. Beards are a fad and sadly (or happily!) the beard buzz is fading. Read anywhere online and you'll learn that our furry-faced friends will soon be shaving again. Fads are something you ride early and get out when it starts to fade. The key to successfully riding a fade is having "the next product" in cue and ready to roll. The Beard Head wasn't prepared for how to extend the concept to sustain and build its momentum.
Steady Growth
Investors carefully time when to invest in a company. They get in early to ride the positive growth curve and get out before sales plateau or decline. Otherwise, they'll lose money. Tipsy Elves was showing year over year growth, whereas The Beard Guy had impressive sales up until the last year. Even without $150,000 in legal fees, The Beard Guy would have experienced declining sales. This is a big indicator to an investor that the market has been saturated with competition or consumers have lost interest. It's too risky for an investor.
It was fun watching Robert negotiate with his Viking hat and beard, but I think his warrior instincts served him well. This wasn't a battle his money could win.
Dan Casey, founder and CEO of purchaseorderfinancing.com, believes every business has a story to tell. He's been listening and helping small businesses grow exponentially since 2002 using a creative combination of finance tools. He's been featured in publications including Entrepreneur Magazine, Entrepreneur Online, Small Business Trends Online, The Washington Post, Crain's Chicago Business & American Express Open Forum. 

Visit www.purchaseorderfinancing.com and be sure to mention Shark Tank Blog to get a free subscription to Fast Company or Entrepreneur magazine.*

*Must qualify for financing to receive special offer exclusively for SharkTankBlog.com readers.