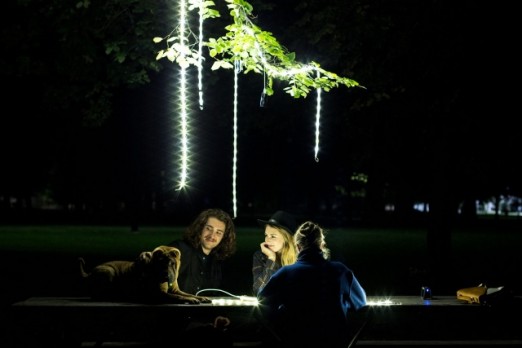 Luminoodle is the latest product from the brain trust at Power Practical, creators of the Power Pot. Power Pot got a deal with Mark Cuban back in season five. I spoke with Caleb Light today about what the company is up to now, and he gave me an update on their latest project.
Power Pot's deal with Mark did close and they continue to work with him and his team on a regular basis. "We have weekly updates and reports via email with Mark," Caleb explains. "I think the best thing about working with him is he's developed a robust team over at Mark Cuban Companies to assist his Shark Tank companies and other start-ups."

Luminoodle Kickstarter
Caleb already spoke with me about how Cuban has helped Power Practical, today he wanted to talk about his latest project: Luminoodle. The Luminoodle is "a versatileUSB powered, use-everywhere portable LED light rope & lantern that sticks, ties, hooks, or hangs on virtually anything." Luminoodles are 5 feet long and the Luminoodle XL is ten feet long. The light rope can hang from a hook, be attached with a magnet to metal surfaces, or put in a dry bag to create a "lantern." It's a natural companion to the Power Pot, which can charge a Luminoodle, as can anything with a USB port.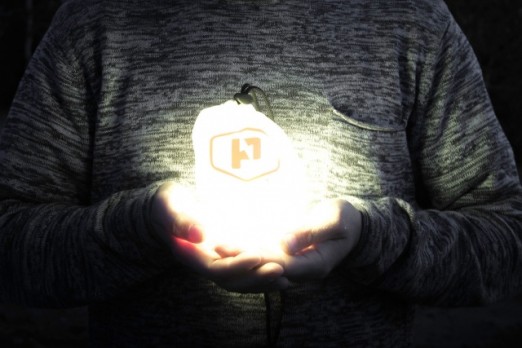 For the fifth time, the guys at Power Practical are funding their new product through Kickstarter. The funding, which ends in less than two days, was extremely successful. They've already raised $343,169! With those funds, the Power Practical guys can fund the first round of production and hit the ground running with their latest product.
Steps to a Successful Kickstarter Campaign
Caleb and the rest of the crew at Power Practical have raised over $1 million on Kickstarter for various projects. They could write the book on getting a campaign funded, so I asked Caleb "what is the secret sauce" to Kickstarter success.
"There are several different components," he explains." The first and foremost is the video. It's important to clearly articulate what you are selling. It really needs to be product focused. The next thing is the page itself. That too needs to clearly state what you're selling, plus you need to get into the nitty-gritty details. There should be a healthy mix of words and images. You also need to thoroughly think through the pledge levels and do the math – with shipping and production costs  costs included – to make sure you can deliver what's promised."
"The next step is building and maintaining momentum throughout the campaign. We spend a lot of time on hit-lists for various media targets. For instance with Luminoodle, we identified several groups that would be interested in the product. Obviously the outdoors market is big, so we spent time sending media releases to media that reaches that market. Then we went on to others: Shark Tank fans, people who work on their cars, bikers, back yarders, etc. We make a list and send out releases to media in each niche. In a way, we are very fortunate because we've already built a community of backers from previous Kickstarters and the media is more likely to write about us because we've been successful in the past."
It's All About the Eyeballs
"The first 48 hours is key. The more eyeballs you can drive to your campaign in that time-frame, the better because the Kickstarter algorithm places projects with a lot of eyeballs on their front page, which gets you more eyeballs. You need to continue to make a targeted effort every day to drive those eyeballs to your page. Incentivizing 'early bird' backers to pledge early is one way to get initial traction. Establishing a 'stretch goal' by upgrading an accessory works, too. We said once we hit a certain funding level, we'd upgrade the lantern bags from nylon to a dry bag. We also learned from our backers they wanted a longer Luminoodle, so we came out with the XL and the ties, which fasten two Luminoodles together. In our case, many backers were 'upsold' to contributing at a higher level to get those stretch goal accessories."
Power Practical is on a short time-line: they want to deliver their products by Christmas.
Using Kickstarter as Proof of Concept
Power Practical is making money. They are shipping batteries, Power Pots and soon they'll be shipping the Luminoodle. Adding more accessories makes sense for their business.
"Accessories drive demand for our core products," Caleb continues. "Luminoodle came about because one of our competitors came out with a similar product that was basically glorified Christmas lights. We though if we had a lower priced, brighter light, we'd be on to something. Since we've clearly been successful, we're already having conversations with second tier distributors to get into their stores. Since we've already proven the concept, it's so much easier to get them on the shelves."
"Crowdfunding is a tremendous tool," concludes Caleb. "I would make the argument that larger companies could use it effectively, but I don't think they understand it. As we've proven, crowdfunding allows more people to bring value-added products to the market when they may otherwise haven't been able to get funding."
Power Practical products are already in Cabella's, REI, Eastern Mountain Sports, Amazon, and many other sporting goods retailers.
Kickstarter Video: