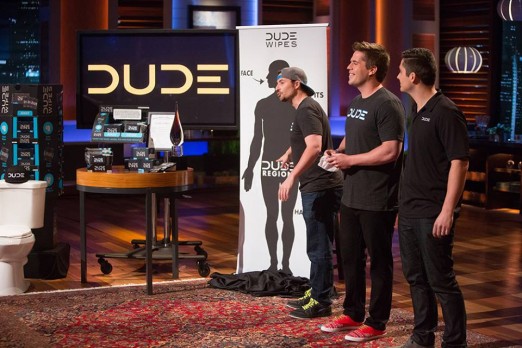 The Dudes, aka Sean Riley, Ryan Meegan, and Jeff Klimkowski, pitch their business, Dude Products, to the Sharks in episode 706. Every once in a while, a product comes out that markets itself to its target demographic perfectly. The dudes at Dude Products are doing just that with their Dude Wipes. Dude Wipes are essentially baby wipes for big boys, designed and marketed as a sanitary wipe for the nether/dude regions of the male body.
Their marketing is a bit irreverent and indelicate: "for those Oh SH????T moments in life" and "there's nothing more whack than a dirty crack" are just two of their slightly off-color yet task appropriate catch phrases. Their product descriptions claim Dude Products are "tested by Scientist & Doctor Dudes," and tout the "Magical Cool Dude Powers" they possess. The Dude Wipes come in 30 packs of single use wipes for travel or 48 packs of the "Dude Wipes Crib Edition." They mathematically claim "Toilet Paper + Dude Wipes = King of the Throne!" Most dudes believe that it's good to be king, wherever thine throne may be.
What they've done is marketing genius. They've taken a commodity consumer  product and packaged it in a new way. Somebody in marketing at Proctor and Gamble is getting the "why didn't we think of this" tongue lashing. Let's be blunt, as a former P&G executive I know quite well once told me, "in good times or bad, everyone still needs to wipe their ass." The Dudes made wiping your ass with a scented wipe "cool" for guys.
That's probably why they landed on the shelves at EVERY Kroger's (and Kroger-owned stores) in the toilet paper aisle. A millennial might not go in and buy baby wipes to pop in his gym bag, but Dude Wipes are just cool enough not to have that "EEEWW" factor.
My Take on Dude Products
As you can guess, I, like everyone else on the planet, wipe my bum when I am done doing my business. Have I used baby wipes in the past? Yup. Do we have baby wipes in our home for just such a task? Yup. Do we have wipes marketed to women for just such a task? Yup. Would I carry  either of those products around with me? Nope, I'm a dude, that would be un-dude-like! That's why Dude Products exists.
Dude Wipes are priced a tad higher than baby wipes and about the same as most branded feminine products made for the same (or regionally similar) purposes, so if I saw them in the TP aisle when it was time to grab a box, I'd probably buy them, I'd even go so far to say they'd be a staple in my bag when I travel, go biking, or to the beach.
Dudes, I'm IN!
Are Sharks Dude-er-iffic?
Consumer products in the Shark Tank are a mixed bag. Some have gone on to do quite well, with or without a Shark, and some have frittered away to oblivion. What matters to the Sharks with a consumer product is sales and distribution.
The Dudes have distribution down. Kroger's is the largest grocery chain in the USA and Dude wipes is now in every store, plus all their non-Kroger branded subsidiaries. That's over 2,400 stores! The dudes, in a span of three years, went from working out of their apartment to national distribution. Even the Sharks will be impressed.
Kroger's is just the tip of the iceberg, too. What about CVS, Walgreens, WalMart, Target and all the other stores that stock consumer products? The sky is the limit for Dude Products, they could even attract the attention of a consumer products giant, like the aforementioned P&G, for acquisition.
All this should get some action in the Tank for the Dudes. I would not be at all surprised to see a feeding frenzy for Dude Wipes. I predict multiple offers from three or more Sharks, but if the Dudes know what they have, they'll weigh them carefully. Whether they accept an offer depends on how greedy the Sharks are. I don't think the dudes will throw away a big chunk of their business to a Shark unless it's an equitable offer.