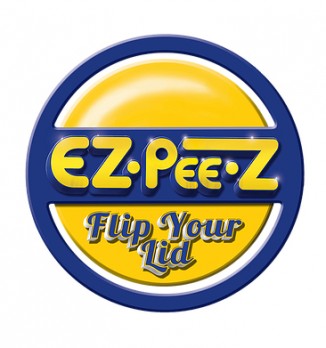 Inventor and entrepreneur Brian Kleinschmidt pitches EZPEEZ, the next generation potty training aid, in Shark Tank episode 706. Brian is currently in pre-production mode, so EZPEEZ isn't available for sale, but you can sign up to pre-order on their website. There's no pricing info, so we'll need to wait until the show airs to see what EZPEEZ costs.
Parents of children who are potty training know the challenges (and messes) involved with this period in a child's life. The constant "accidents," the hassle of emptying training potties, and the angst involved can try the most even-keeled parent's patience. EZPEEZ helps solve part of the problem. Most children use a training potty – usually a junior-sized, plastic potty that needs to be manually emptied. If the prospect of emptying wastes from a plastic bowl regularly doesn't float your boat, EZPEEZ might be for you.
The product is a regular-sized toilet seat that has a flip top at the front of the seat. When this top is flipped, the seat over the bowl becomes child-sized so they can sit on the regular toilet. This has several benefits. First and foremost, there's nothing to clean – your child does his business in the regular toilet, so the only clean-up is flushing. Second, kids like using grown-up stuff; I'm no child psychologist, but I think a kid will take to potty training faster if they're using a "big boy/girl" potty. Third, without EZPEEZ, if a kid tried to use the regular toilet, they could very well end up going for a messy swim!
My Take on the EZPEEZ Potty Training Seat
Mercifully, our family is well beyond the potty training years. It is an aggravating time. Kids announce they need to go at the worst possible times (kind of like the Murphy's Law of potty training), and the accidents are messy, stinky, sometimes angst-ridden affairs. One of my kids peed on the potty at about 16 months but announce she wouldn't poop "until I'm three." I remember the joy my wife and I felt when the potty training years were over; we love our kids, but there comes a time when, as a parent, cleaning excrement loses its appeal.
This is a product we probably would have purchased back in those days. We fished more than one eager child out of the toilet bowl when they tried going on the big potty. Looking back on it now, we laugh about it, but at the time, it was just plain yucky. I don't know what's up with this product, but if Brian ever gets it into production, I am IN.
Do Sharks Join the Potty?
The complete lack of information regarding this product makes me believe there's no Sharks involved with EZPEEZ. Their Facebook and Twitter accounts were created just a few days after the air date was announced and the website is very thin on information. The fact there isn't even a product for sale indicates a lack of capital infusion from a Shark.
I think the segment will be entertaining and the Sharks (and public) will like the invention, but there isn't any indications that a deal gets done.