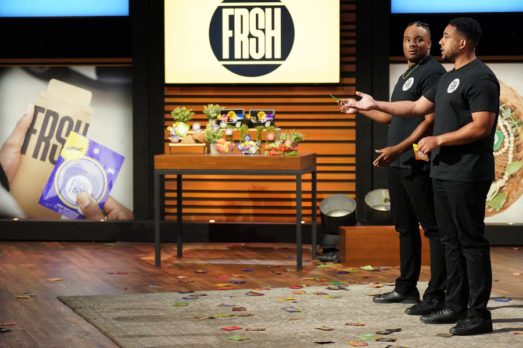 Entrepreneurial brothers Donovan and Trey Brown are two of the five founders of Ride FRSH. The other three, Garrick Mitchell, Martin Weiss and Dean Parker, do not appear in Shark Tank episode 1407. All five are childhood friends who, after college, were living and working in Los Angeles. They were hanging out in their apartment eating pizza and brainstorming business ideas when Trey came up with the idea for doing a line of air fresheners. The guys say air fresheners haven't changed from the standard "pine trees" since the 1950's.
While getting into retail is the ultimate goal – a goal they've achieved – they got started by offering a subscription based service. For five bucks a month, you get two random air fresheners. Both Mitchel and Donovan Brown have digital marketing backgrounds and they got a fairly large investment from Indie.VC to get started.
The air fresheners themselves are square and have the Ride FRSH logo on one side and snippets of lyrics of songs on the other side. You can also get Sponge Bob or NBA licensed air fresheners. The company has sales, too. They claim to have over 10,000 subscribers and they're in over 2700 Target stores. They're currently negotiating with Dollar General to get on their shelves. This is a company seeking to disrupt the billion dollar car air freshener market and they'd love it if a Shark joined them on this ride.
My Take on Ride FRSH
I have air fresheners in all three of our vehicles. We usually buy a ton of them at Christmas time as stocking stuffers and switch them out throughout the year. They're usually the pine tree kind, but sometimes they're the little vent clip kind. I'm not a fan of those because I don't like having the scent blown in my face when the AC is on.
As for Ride FRSH, I like them. I'm a big music fan and the lyrics provide a nice twist. My kids grew up on Sponge Bob, so they'd like them. I'm not much of an NBA fan, but my daughter and son in law are. The one thing I think this company needs to do is buy a vowel! All the kids are visiting for Christmas, so I think we'll switch things up and a whole bunch of Ride FRSH air fresheners for the stockings this year.
Will Sharks Think This is a Fresh Investment?
The one obstacle to receiving offers could be the "other investor," Indie.VC. Sometimes in the Tank, other investors scare the Sharks away. If they don't have too big of an equity stake, it won't be a problem; if they do, it could kill the deal before it gets started.
As for the Sharks, I could see any one of them investing. Robert is a car guy, so it could appeal to him. If Lori thinks they'd sell on QVC, she could be interested. Barbara always bets on the entrepreneur, and these guys are pretty sharp so she could be interested too. Mark will like their marketing approach, so he could be in. I fully expect Mr. Wonderful to make a royalty offer. I think they'll get offers, but I don't know from which Shark.