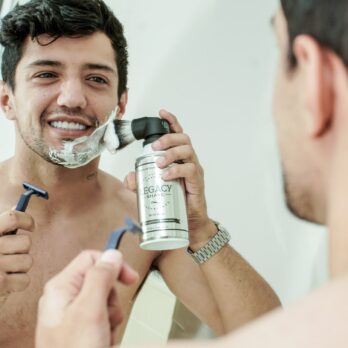 Mike Gutow hopes to get a deal for Legacy Shave, his patented shaving brush attachment, in Shark Tank episode 1407. He started the company with his brother Dave (who doesn't appear on the show) way back at the turn of the century. The product, called the Evolution Shave Brush, is essentially a nozzle with a shaving brush on it that attaches to any shaving cream or gel can. This gives you the luxurious feel of a shaving brush with real shaving cream – not shaving soap. The company also sells shaving cream, razors, bar soap and a variety of gift packages.
The remarkable thing about this business is how it came to be. The brothers, with the help of their father, developed the product after they graduated from Michigan State. They ordered 3000 units that needed to be assembled. The boys assembled about 200 units and lost interest. Over the years, the brothers kept asking each other when they were going to pull the trigger on their business, but they never did. About 17 years after their first product order, their father passed away from cancer. When they were cleaning out his basement, they found all 3000 units assembled – their father was assembling them to pass the time while on chemotherapy.
That was all they needed to get going. They did a Kickstarter, got a patent and redesigned the original version of the Evolution Shave Brush to be a bit sleeker. The product was featured in The Sharper Image in 2017 and they was voted top new product at the 2019 ECRM Show in Orlando, Florida. An Evolution Brush will set you back $19.95 or $24.95 if you get one of their custom colors. A can of their own branded shaving cream costs $9.95. The brush helps lift hair follicles for a closer shave and makes shaving cream cans last up to 4 times longer. Mike and Dave likely want a Shark's help with inventory, will a Shark shave out a deal?
Company Information
Video

Posts about Legacy Shave on Shark Tank Blog
Legacy Shave Shark Tank Recap
Mike enters the Shark Tank seeking $300,000 for 10% of his company. He has patented technology and is ready to disrupt the $50 billion global shaving industry. He spreads one side of his face with shaving cream from his hand. He's not exfoliating his skin and he's actually pushing the hairs down. In addition, half the product he dispensed gets washed down the drain. He shows an old school shave brush and says it's the best innovation in the shaving industry, but "we don't have time for this."
Next, he introduces the Legacy Shave – a modern shave brush for modern times. He demonstrates the product on the other cheek and uses far less shaving cream. The Legacy Shave fits on any shaving cream can – he has about a dozen and a half different shaving cream brands fitted with his brush system on a table. The Sharks loudly applaud and Mark says it was the best presentation ever.
The Sharks have samples with Legacy Shave shaving cream attached to the brush. Robert likes the shaving cream. The can and brush sell for $24.95 and costs $5.39 to make. The brush alone is $19.95. Lori asks how he came up with it and Mike tells the story about his father. After they invented it, they got scared and it sat for 20 years. He tells how they found the 3000 assembled units. Dad left a note that said "don't wait, life's short, take the shot." Mike says Shark Tank gave he and his brother the courage to take the shot.
Who's In?
Lifetime sales are over $1 million on sales of over 100,000 units. They've been selling it for 5 years. Kevin asks for a year by year breakdown. 2018 sales were $70,000. The company is in the red and has been every year. In 2019, sales were $370,000. 2020 sales were $390,000. In 2021, they only sold $96,000. In 2022, they have $42,000 so far and a purchase order for $63,000. Mark says "the trend is not your friend." Sales are dropping because they're out of money. Mike says the family has invested over $400,000 into the business. They want to be a direct to consumer product but Mike and his brother don't know marketing.
Barbara says Mike is not a clear communicator and he's all over the map; she's out. Mark doesn't like that Mike's out of money; he's out. At this point, mike reveals his patent covers all aerosol cans. Kevin says Mike's story was the most moving he's ever heard on Shark Tank, but the shaving industry is dominated by behemoths. Kevin isn't going to take that journey with him; he's out. Robert sees a lot of challenges; this isn't for him – he's out. Lori likes the interchangeability of the product and the fact he has a patent. She's concerned about the sales but understands he doesn't have a lot of experience in the consumer products world.
Lori says she's going to take a flyer on this, not because she wants to be in the shaving business, but because she recognizes a good product when she sees it. Lori offers $1 million for 100% of the company and she'll pay Mike a 3% royalty of net sales for life. After a break, Lori explains she'll buy out everything patents and all. Mike asks if she'll do the same deal, but Mike retains 5% of the business. Mark calls that schmuck insurance. Lori would do that deal for $700,000. Mike's willing to take that deal!
Legacy Shave Shark Tank Update
The Shark Tank Blog constantly provides updates and follow-ups about entrepreneurs who have appeared on the Shark Tank TV show. The company had their products on QVC (without Lori) 4 days later and completely sold out of product. This led to some inventory issues right before the holidays that took until the spring of 2023 to sort out. By June 2023, they were back in stock and shipping regularly. The company introduced a gift set which includes a brush, can of shave cream, premium razor and a jar of shave balm just in time for Father's Day. As of August, 2023, the deal with Lori has not closed.  Reliable revenue figures are unavailable at this time.
The Shark Tank Blog will follow-up on Legacy Shave & Mike and Dave Gutow as more details become available.