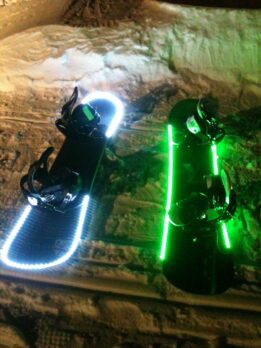 Garret and Dakota Porter hope to light up the Tank with ActionGlow, their LED lighting accessories for snow, water and land sports, in Shark Tank episode 1407. The brothers first got the idea for ActionGlow in 2011 while snowboarding. At the time, they were 13 and 16 respectively. Everything was white on the slopes and they wanted to add a little color, so they made their first prototype in a couple of weeks. When they returned to the slopes a few weeks later with their boards lit up, everyone wanted them. The boys thought they could make a business out of their idea and that's just what they did.
Two years later, in November, 2013, they launched their first products at a Traverse City business expo and sold out in just 48 hours. Since then, they've added 8 other products for bikes, surfboards and more. There was an unsuccessful Kickstarter the boys launched in 2016, but they forged on. They also have a patent protecting them from other products that light up sporting equipment. They've even had their products featured in Red Bull and  Jeep commercials and on the ABC TV show The Ultimate Surfer.
The boys, now 23 and 26, both love snowboarding, long boarding, surfing and other outdoor activities. Both have associate degrees in business and, as of November, 2022, they are the only two employees of the company. They were approached by a Shark Tank producer when they were first starting out, but they declined the invitation. The reason was they won a pitch contest in Detroit and the prize sponsor withheld the $40,000 prize due to their age. Since then, they applied to be on the show three times. Now that they made it into the Tank, they hope to get a Shark to take them to the next level.
Company Information
Video

Posts about ActionGlow on Shark Tank Blog
ActionGlow Shark Tank Recap
Garret and Dakota enter the Shark Tank on skateboards fitted with their lights. The Skateboards are Hamboards which Robert invested in back in season 5. They're seeking $200,000 for 15% of their company. The guys say they're action sports junkies and began snowboarding before they could walk. In Michigan, where they are from, a lot of their snowboarding was done at night. Even though there are lights, the atmosphere bored them. That's what led them to create ActionGlow. The lights add both style and safety to sporting equipment. They've sold them worldwide and they only take 5 minutes to apply.
The guys have been trying to get on Shark Tank for ten years and they roll video clips of their past pitch videos for the Sharks. All the Sharks applaud when the video ends. They filed their LLC in 2012 and are celebrating their 10th year in business. In 2016, their utility patent was granted for decorative lighting systems for sporting equipment. Right now, the colors are static. They're in the Shark Tank for funds to develop ActionGlow2 which will have multiple colors.
Who's in?
The cost for the multi colors will only got up a little. Currently, prices range from $49 for a skateboard to $124 for an SUP Board or kayak. The skateboard model costs just $15 to make. Lifetime sales are $130,000 of hand assembled units; half of that has come in the last two years. They've been attending college and now they have more time to tend to their business. 2021 sales were $32,000 and they're at $22,000 now (July, 2022). They sell direct to consumer with zero marketing – it's all word of mouth. They're only taking orders they can handle since they're still hand assembling everything. The guys are actually afraid of getting a viral video because they won't be able to keep up with demand.
Kevin talks about his success with Illumibowl which was successful. The problem was knock-offs kept coming out. Even though the boys have a patent, they'll have to protect it. Kevin said he was suing Illumibowl infringers "like whack a mole." He thinks the products are good but the trouble ahead isn't; he's out. Lori thinks the guys are fabulous but too small; she's out. Mark thinks they'll do great things but it's not a fit for him; he's out. Barbara is troubled by the low sales numbers and their lack of social media; she's out.
Robert is impressed with the product. When the guys say they are projecting $430,000 in sales when they launch ActionGlow 2, Robert says he doesn't know how to predict that. He thinks they need discipline. Robert wants to know how much of the business he can own for it to be interesting. Kevin says "I'll bet it will be more than 15%." He offers $200,000 for 30%. They counter with 20% and Robert says no. They counter again with 25% and Robert says no. Lori says "guys, you've been trying to get in here for ten years and now you have an offer. Don't blow it." They slide a skate board over to Robert and say "you have a deal!"
ActionGlow Shark Tank Update
The Shark Tank Blog constantly provides updates and follow-ups about entrepreneurs who have appeared on the Shark Tank TV show. It turns out, the ActionGlow Bros reached out to Hamboards to borrow skate boards for their display (they were on a tight budget). The Hamboards guys hooked them up and helped them prepare for their time in the Tank. The brothers plan on touring the country in a renovated school bus in 2023 and selling products from it. They call it "The LED the Way Tour." They'll also be creating content for marketing along the way.
As of August, 2023, there is no evidence the deal with Robert has closed.
The Shark Tank Blog will follow-up on ActionGlow & Garret and Dakota Porter as more details become available.