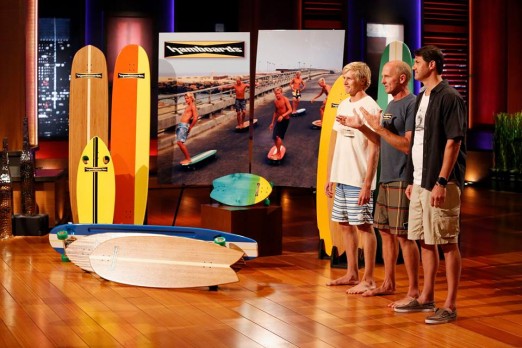 Hamboards is "the little company that makes the really BIG Skateboard" and they're coming to the Shark Tank in episode 507! The giant skateboards were created by the Hamborg Family to mimic real surfing on land when the waves in the ocean aren't cooperating. Hamboards is a family business; father Pete Hamborg and his son Gus, along with cousin Don Sandusky are the major pitchmen for the Shark Tank.
The Hamborg family consists of mom, dad, and 5 boys. The whole gang enjoys surfing and their long board skate boards – so much so, they created a business manufacturing them in their home town of Huntington Beach, CA. A Hamboard looks almost as big as a surfboard and takes the long board concept to a different stratosphere.
They'll all roll into the Shark Tank in what looks like a memorable segment. Pete, Gus, and Don appear to be laid back, California surfer types who've cashed in on the sport they love. They really "cut it up" in their Shark Tank promo video (below), the question is, can they cut in the Shark Tank.
Hamboards Shark Tank Recap
The segment opens with shots of the Hamborgs "surfing" on their Hamboards. The voiceover explains that their sales are increasing. Next, Pete, Gus, and Don roll into the Shark Tank on Hamboards and announce they're seeking $110 K for 15% of the business. After giving a brief history of  skateboards, he explains how a happy accident made Hamboards work well. Mom squished the wheels so they turned better when she ran over a prototype with her car.
Don gets introduced as the "family hardass" and tells them how he invented "never flat" technology. Robert and Daymond then try out a Hamboard. They had sales of $225K last year and are projecting $350K for this year. They've just hired sales reps to get into more stores. They said they have an "intellectual property portfolio" when asked about patents. The most popular Hamboard sells for $525 and costs a third of that to make. They also introduce paddles, making Hamboards a land based stand up paddle board.
Lori thinks the product is too niche and she's out. Mark doesn't like the idea of marketing as a surfing culture product, so he's out. Kevin thinks the business isn't ready to take off, so he's out too.
Daymond wants to license Hamboards and get it to market quickly; he offers $100K for 30%. Robert likes Hamboards and thinks they're selling "the California Dream, baby!" He thinks a large percentage of customers will be people who are wannabe surfers. Robert wants in, but thinks they need more money; he offers $300K for 33% of the business. They counter with 30% and Robert accepts. Pete says he is "super stoked!"
Hamboards Shark Tank Update
Hamboards' sales blew up after their appearance and fans get an update on the business in episode 611. In the update, Robert visits the shop and announces Hamboards did over $1 million in sales since their appearance. They OWN the stand-up skateboard market, too. They still manufacture by hand, but they've moved into a new, bigger shop and hired three new full-time employees. Hamboards and Robert Herjavec are rolling!
Hamboards got an additional update in Beyond the Tank Episode 109.  You can read about it HERE.
Since doing the Shark Tank deal, the company expanded their line to include short (or regular sized) boards and even electric skateboards. In March, 2021, Abraham Paskowitz, son of surfing legend Dorian "Doc" Paskowitz, joined Hamboards as Partner and Chief Experience Officer. As of June, 2021, the company is still in business and retails in 60 independent skate and surf shops – 59 in the USA and 1 in Thailand. As of August, 2022, they are still doing over $1 million in sales annually.
Posts About Hamboards on Shark Tank Blog
Pre Show Hamboards Interview with Don Sandusky
Company Information
Video: