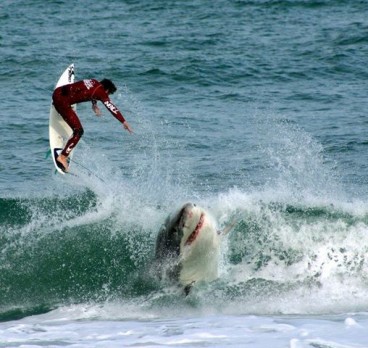 Hamboards says they're "the little company that makes the really big skateboard." The Hamborg family created their really big skateboard to get  a real surfing experience on land. The boards look almost as big as real surfboards and the many photos on the Hamboards website depict riders doing surfing moves, like "hanging ten," while coasting along Huntington Beach's sidewalks, roads, and dry river beds.
Hamboards claim they have the "unique flow and feel" of real surfing. If you live on the California coast, a Hamboard is an occaisional diversion from surfing, if you live in the mid-west, a really big skateboard may be the closest you'll ever get to surfing. While Hamboards may appeal to the surfing set, it's the skateboard crowd they want to sell to.
My Take on the Really Big Skateboard
I haven't been on a skateboard in close to 30 years and I'd be afraid to step on one today! Skateboarding is a $6 Billion per year business and they're found in any city or town in the USA. Avid skateboarders are always looking for the next big thing, even if that thing is a really big skateboard.
Longboarders tend to use their skateboard as a mode of transportation, so a comfortable ride is an important factor when choosing a new board. Hamboards take longboarding to the next level; if they were any bigger, state DMV's will want to start registering them! Knowing what I know about skate board types, I think they'd find the Hamboard as a neat addition to their fleet.
Do Sharks Really Like Hamboards?
The Sharks will think the really big skateboards are cool, but really big sales is what they'll be looking for. The Hamborgs started this business in their garage and still make Hamboards in a small shop. If they want really big distribution, they'll probably want an investment to increase production capacity.
The Sharks will want some serious proof of concept to invest in production, they usually don't want to get involved at that level of a businesses life cycle – unless it's something they can easily move offshore. If Hamboards are at a point where they could keep up with major, national distribution, they could attract some interest from the Sharks. If they're still considered a "boutique brand," their chances of Shark involvement go way down. Whether they get a deal or not, after being on Shark Tank, Hamboards are going to see really big sales for their really big skateboard!