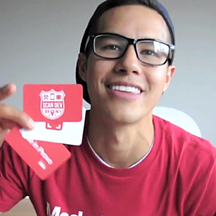 Garrett Gee introduces the Sharks to Scan, his QR Code App, in episode 507. Gee created the app with friends Kirk Ouimet and Ben Turley while they were students at BYU. Scan has offices in San Francisco and Provo, UT and the QR code app boasts over 40,000 downloads world-wide. The app allows users to quickly generate scannable codes that smart phones can read.
Airlines use QR Codes for ticketing now and they little black and white squares are becoming ubiquitous in print and display advertising as businesses want to offer more information via smart phone technology to consumers. Uses for scannable codes include restaurant menus, ordering information, technical specifications – just about anything that gives more information about a product or service. The codes can also be a ticket for admission to an event or even a purchasing mechanism.
QR Code App Makes it Easy
Scan hosts the necessary information "stored" in a code on their own servers while allowing anyone to create a code for their business. Smart phones "read" the code when it is scanned by the device. Presumably, people who create a code for their business will pay for Scan's added services. With the ability to easily create a scannable code, having a QR code app could catch on.
Will the Sharks Scan?
In a season that seems to have a new app on every show, Shark Tank viewers and Sharks alike are becoming educated in this new business niche. Tech savvy Sharks like Robert and Mark (even Mr. Wonderful) are getting good opportunities to see some cutting edge technology and investment opportunities. Mark and Robert will probably understand the technology and its value, but will they think it is a solid investment?
All the Sharks will know what a QR code app does, but will they comprehend how to make money with it? If they truly believe the technology is proprietary, they'll have interest. I'd expect multiple offers. The funny thing is Gee and Scan aren't making a big deal out of their appearance. Scan could be the first "train wreck" of the season; it could also be a big hit. Apps do well in the Shark Tank, frequently scoring deals on the air (even if they don't always vet). I'm thinking Robert goes for scan and gets a QR code app in his portfolio.