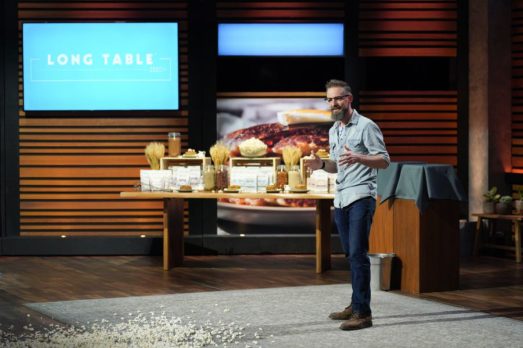 Samuel Taylor hopes the Sharks bite on Long Table, his heirloom grain flour based pancake and waffle mixes, in Shark Tank episode 1410. Taylor started the business in 2015 after working in Shakespearean theater, teaching and writing for a number of years. He still works part time with The Back Room Shakespeare Project, a collection of Shakespearean actors who do one man (or woman) Shakespeare plays in bars.
Taylor calls the business Long Table as a metaphor for the generations that sit at a table for a meal. He wants to hand down a better world to the younger generations they way people hand down food at a table. As he says on his LinkedIn profile, his business takes "the long view – for your health, the planet & for local economies." He's doing this by using sustainably sourced, heirloom grains in his pancake and waffle mixes. The mixes include sorghum flour, blue corn flour and popcorn flour based pancakes. There's also a gluten-free option.
Taylor sources his grains through The Artisan Grain Collaborative, a network of farmers in the upper mid-west that grow heirloom grains and promote awareness of biodiversity in the growing of them. As for Taylor's pancakes, a 16 ounce packet will run you $11.25. If you bundle the packets together, the cost per packet goes down a bit. He also sells several kinds of real maple syrup and does several "short-run" packets of different heirloom grains. If you sign up for his newsletter, you can get 15% off your first order. Taylor likely wants a Shark to help with marketing and inventory. Will a Shark like these pancakes?
Company Information
Posts about Long Table on Shark Tank Blog
Long Table Shark Tank Recap
The segment begins with an acrobat performing tricks. Samuel says Lindsey, the acrobat,  is the love of his life. He's seeking $140,000 for 15% of his company. He wanted to impress Lindsey with a  nutrient dense pancake that was so light it would practically float – like her. He knew it meant whole grains, but there was no whole grain flour that was fluffy enough. Samuel introduces popcorn flour as a new twist on a whole grain. Popcorn flour is the fluffiest flour out there. His pancakes are from farm to table whole grains sourced from organic, regenerative farmers.
The Sharks taste their samples. He has popcorn flour pancakes. Lori says it tastes interesting. The Sharks all like their pancakes. Samuel says they make great waffles too. David Schwimmer comes out with a waffle cart and makes waffles. The Sharks like the waffles too. David Schwimmer thinks they're the best pancakes and waffles he ever ate. He's not an investor. David knows Samuel from a Chicago area non profit theater group. After Covid shut the theaters down, things were tough. David said Samuel should go on Shark Tank and promised he'd join him if he made it.
Mr. Wonderful LOVES the pancakes and wants to know the numbers. Samuel shows 5 pounds of whole grain wheat flour in a glass container, then 5 pounds of popcorn flour in another container. The popcorn flour has more volume to its weight making it fluffier. A bag of pancake mix costs $3.10 and sells for $11.25. He admits he's at the top end of the market. Lifetime sales are $250,000. From 2015-2019 he did $20,000 a year in sales. He's in 20 independent grocers, mostly in the Chicago area, but 70% of the business is direct to consumer. Unfortunately, social media is not Samuel's strong suit.
Lori isn't a pancake fan, but the blue corn pancake was the best pancake she's had in her life. Unfortunately she's not super passionate about pancakes; she's out. Barbara thinks the slow trajectory of sales is a problem; she's out. Gwyneth likes the product and respects Samuel as an actor/entrepreneur, but the business is too small for her; she's out. Mark wants to know why he calls it Long Table. Mark gets the mission, but thinks Samuel is putting the mission before the product; he's out. Mr. Wonderful thinks the business is on trend for what's happening with nutrition. He thinks he could get behind it, but doesn't like that Samuel ddoesn't have a social media platform. Kevin says it's the best pancake he's ever had. He thinks Samuel should be telling that story every day. If he did, sales would be in the millions. Mr. Wonderful goes out.
Long Table Shark Tank Update
The Shark Tank Blog constantly provides updates and follow-ups about entrepreneurs who have appeared on the Shark Tank TV show. David Schwimmer's appearance cause a big splash and the company was innundated with orders after the show aired. They were running on a one month backlog for a time. As of July, 2023, they have over $250,000 in sales year to date.
The Shark Tank Blog will follow-up on Long Table & Samuel Taylor as more details become available.
****Editor's note: I waited almost a month for my pancake mixes to arrive. They were the best pancakes I ever made.****