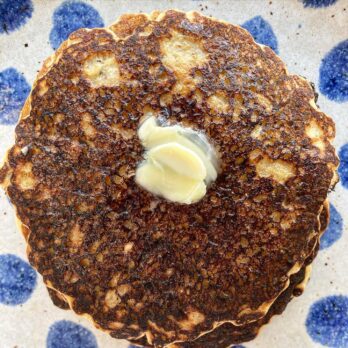 Sam Taylor created Long Table Pancakes to hand down a better world to his children. The Shakespearean actor believes the modern food system is broken. Refined grains make up most of the grains consumed in the USA and Taylor doesn't think it's a healthy option. He uses heirloom grains like sorghum flour, blue corn flour and popcorn flour in his pancake mixes. The flours are milled by small farmers who work with a group called the Artisan Grain Collaborative, a group of small farmers, millers and others who take a sustainable approach to farming.
Big agri-business is not a particularly good way to farm grains. By opting for a more sustainable approach, Taylor and others like him keep the farming local and with diversified crops. Heirloom grains like sorghum and others don't tax the soil they're planted in because the farmers rotate their crops, creating more biodiversity and cleaner, better for you end products. This mindset is at the core of Long Table Pancakes' values and mission.
As for the pancakes, they get rave reviews online. The mixes, which come in three varieties, are a tad more expensive than Aunt Jemima, but they're far better for you and the planet. You can make waffles with the mixes too. The company also sells real maple syrup. Long Table Pancakes are available in a dozen or so independent, "mom and pop" grocers in Illinois, Michigan, Pennsylvania and New York. The rest of their sales are direct to consumer. Taylor likely wants a Shark's help getting into bigger grocery chains. Will the Sharks like these pancakes?
My Take on Long Table Pancakes
I LOVCE waffles and pancakes, but I don't eat them often because of the empty calories. When I do have them, I usually make them from scratch with whole wheat flour and I always use real maple syrup. "Maple flavored syrup" is what most people use because it's a lot cheaper. There's no comparison in the taste however.
As for Long Table Pancakes, I ordered the Shark Tank Bundle to try the different varieties. I'll report on how I like them on the Long Table page on this website. Taylor let a few facts fly about how the pitch went on the Shark Tank bundle page. Both Mark and Kevin said they were the best pancakes they ever had. Gwyneth and Barbara had kind words too. I hope the Shark Tank producers don't bust him for spilling the beans before the show airs!
Do Sharks Like These Pancakes?
Thanks to Taylor letting some pre-show facts slip, it appears the Sharks do like these pancakes. Does that translate into a deal though? Kevin hates the grocery space, so he'll probably be a customer, but not an investor. Any of the other Sharks could make offers though. Back in season 5, Kodiak Cakes unsuccessfully pitched their brand of "hearty whole wheat hotcakes" in the Tank. The Sharks made offers that devalued the company too much, so the guys backed away. That company went on to explode and was a $200 million company until being acquired in 2021. If the Sharks had given Kodiak Cakes what they were asking for, $500,000 for 10%, they would have made a cool $20 million on the deal!
That said, past performance is no guarantee of future success, but the sheer good taste could motivate the Sharks to make offers. I think a Shark does make an offer, the question is, which one?