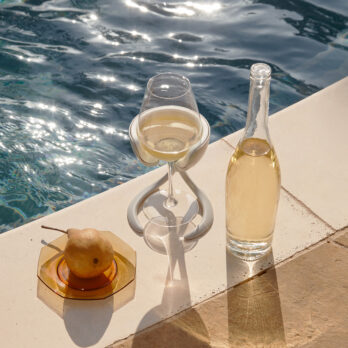 Husband and wife entrepreneurs and wine lovers Lisa and Randall Pawlik invented the VoChill because they didn't like it when their wine got warm. Since they live in Texas, that was a regular occurrence, until now. Their product actually chills the glass from the outside with the wine in it rather than putting something inside the wine glass, which could affect the flavor. The VoChill is like a little frozen nest for your wine glass. When you aren't drinking it, set the glass down and keep it chilled.
Ron invented the product more than five years ago, but they didn't start selling it until their patents came through – that was in 2020. The wine community has embraced the product. The couple found early success selling to vineyards and the product was voted best wine gift of 2020 by USA Today and NBC News. In 2022, it was named as one of Oprah's "favorite things." They're so successful, they sell in the UK too.
As you can see in the photo above, The VoChill is elegant looking. They come in a variety of colors and cost $49.99 for the regular version and $45.99 for the stemless version. Three hours in the freezer will give you a nice way to keep white and sparkling wines cold and crisp. You can use it for reds too by moderating the temperature from room temperature to 60 degrees – the optimal "cellar temperature" for drinking red wine. The couple likely wants a Shark's help with getting into retail. Will a Shark drink up and invest?
My Take on The VoChill
I don't drink a lot of wine. I drink wine at my parents' house and out at a restaurant for dinner. My parents are big wine enthusiasts and they'd love this product. I will probably get them for their birthdays which are coming up.
I do think it's a smart product. This couple probably saw a big influx in sales due to the "Oprah Effect" too. While it's not something I would use, my mother will love it for her Chardonnay here in Florida.
Will Sharks Drink In and Invest?
Whenever a wine related product come into the Tank, Kevin is a focus. He owns a wine company and knows the market well. This product probably has decent margins, so I'm betting on a royalty deal from Kevin. As for the other Sharks, they may make offers too, but my money is on Kevin. One thing is certain, at the end of this pitch, the Sharks will toast to "La Confrérie des Chevaliers du Tastevin!"