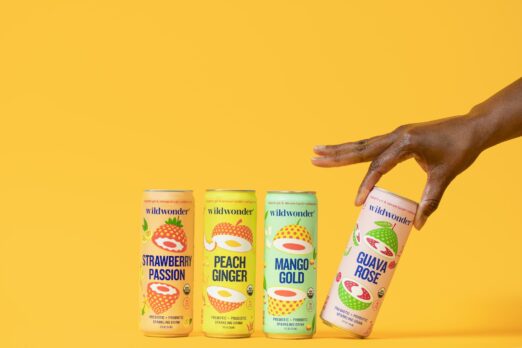 Rosa Li created Wild Wonder, her line of pre and pro biotic sparkling beverages, from recipes she learned from her grandmother. It seems grandma was always brewing up tonics when Rosa was a kid and they helped her with her gut health. Unlike many pre biotic drinks, WildWonder contains no apple cider vinegar. She actually says "think Kombucha benefits without the vinegary taste or refined sugar" on her website.
She's already had some success getting onto store shelves. Wild Wonder is on the shelves 800 Sprouts and Farmers Market stores nationwide with plans to get into additional stores throughout 2023. It's also available from her website or on Amazon. Each can of Wild Wonder contains live probiotics and prebiotic fiber, herbs, fruits and only 6 grams of sugar. There are six flavors: Mango Gold, Strawberry Passion, Peach Ginger, Pear Turmeric, Lemon Ginger and Guava Rose.
Rosa probably wants help expanding nationally. Currently, she has a presence in the south western USA. Growing brands in the crowded beverage space is tough, but the growth of "gut healthy" drinks is on the rise. Another Shark Tank company, Poppi, did a deal with Rohan Oza in season 10. They are a prebiotic beverage that is low in sugar but they use cider vinegar in their beverages. Perhaps one of tonight's Sharks will grab a company in this niche.
My Take on Wild Wonder
I usually try every Shark Tank food product and I'll try this one too, when it's available in my area. Shipping beverages is expensive, so I'll wait. I have tried Poppi and we buy it regularly. I have about one can a week and it keeps my gut healthy. I'm a fan of their cola and orange flavors. Poppi does have a very slight vinegar aftertaste, but it isn't overpowering.
That's one of the reasons why I'll try Wild Wonder, the other is it contains both pre nd probiotics, so it's a bit more "complete" than Poppi. The flavors sound good too. I will let readers know how I like it in the WildWonder Shark Tank Update section of this site.
Will Sharks Go Wild for this Product?
Mr. Wonderful HATES the grocery business, so he likely won't make an offer. Barbara has invested in beverages in the past and gotten burned or backed out of the deal after taping, so I don't think she makes an offer. Lori sometimes goes for food products, but generally shies away from beverages.
That leaves Mark and Tony Xu. I think one or both of them did a deal with Rosa. The reason is, she went from being a small, regional brand to having a presence in a lot of stores in the second half of 2022, after she taped her segment. That smacks of a Shark investor. I predict either Tony will make an offer or he and Mark will team up to do so.