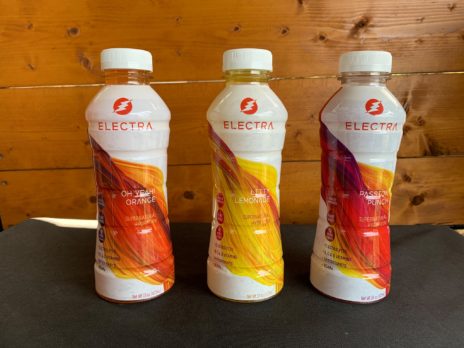 Electra Beverages founder Fran Harris knows a thing or two about sports drinks. She's a former WNBA star who won championships at the high school, college and professional levels. Fran is no stranger to TV either. She's hosted shows on on HGTV, produced and hosted her own reality show – America's Fitness Show – and appeared on the short lived NBC reality show America's Next Great Restaurant. Now, she's bringing her new venture to the Shark Tank.
In addition to basketball, Fran is a fitness afficianado. She runs in competitive races and is in very good shape. She created Electra Beverages because she felt there was too much sugar in the $23 billion, Gatorade dominated sports hydration drink market. As an athlete, Fran wanted a healthier alternative, so she brewed up her own. The three flavors, Passion Punch, Oh Yeah! Orange and Litty Lemonade, are free of artificial colors or ingredients and each 16 ounce bottle is loaded with vitamins, amino acids, antioxidants and electrolytes. They're also low in calories, just 60 per 16 ounce bottle (compared to 140 in a 16 ounce Gatorade).
The sports hydration market is very competitive, but Fran is up to the challenge. She shoestringed the start-up with an IndieGoGo campaign that raised $7212 during the early stages of the Covid-19 pandemic. At a little over three bucks per bottle, Electra isn't cheap. It's also only available online at her website. Fran needs to get her prices down – something producing in volume could help – and she needs to get into stores. A Shark would be a big help with that.
My Take on Electra Beverages
I'm not much of a sports drink guy. I prefer lightly sweeted iced tea or plain old H2O. I'll occaisionally have a Gatorade to ward off a hangover, but that's about it. It's no joke Gatorade dominates the market. At the grocery store I shop at regulary, its products take up almost half the drink aisle.
There are A LOT of other choices, too. It will be tough cracking that shelf space. If anyone can do it, Fran can. She spent part of her career as a sales and marketing executive at Proctor and Gamble, so she knows the ropes. While I may not be a customer, I'm sure there are folks out there who want a healthier sports drink.
Will The Sharks Drink Up and Invest?
Beverages are a tough sell in the Shark Tank. There are many products that got deals, but many more that did not. That said, every Shark on the panel invested in drinks of one kind or another. Fran's energy and smarts are likely to impress the Sharks, but is it enough to score a deal?
I'm thinking Mark Cuban is going to invest. He could work the basketball angle and get the word out in the sports world quickly. Mr. Wonderful will likely pass and the other Sharks have similar products in their porfolios. I say it's Mark or no deal.