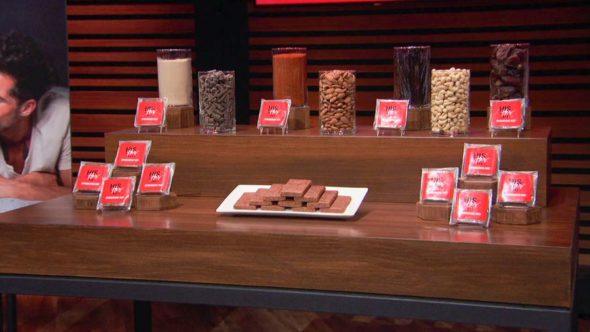 Jennifer and Michael Gallagher created His and Her Bars to have themselves a healthy snack and to spice up their sex life. The bars are billed as "aphrodisiac bars" and contain ingredients that will make you "ready to go" after munching on one. The idea came to Jennifer, a former sales and marketing executive, while on an evening run with Michael.
She thought it would be a good idea to create a new kind of snack that would not only taste good, but would spice things up in the boudoir. The secret sauce in His and Her Bars is maca root, also known as Peruvian Ginseng. This root has been used for thousands of years as a way to boost fertility and enhance energy and stamina. Those are three good qualities for livening up your sex life. The other ingredients are cashews, almonds, dates, choclate, vanilla and a pinch of cayenne pepper to bring a little more heat to the situation.
The couple revels in their "sexy" outlook on life in product videos. Whether that translates into sales remains to be seen. They certainly have nerve, they started the business just as Covid-19 broke out. The pandemic was good for companies that ship food, so maybe they have some sales from their website. What they'd really like is to get in stores – they aren't in any yet – and a Shark could certainly help with that.
My Take on His and Her Bars
I'm not sure what to think of this product. I like cayenne pepper in my chili, but I don't know if I'd like it in a snack bar. As for the aphrodisiac side of the coin, it might be fun to slip one to my wife without telling her what it is. THAT would be an interesting experiment!
At $3.69 a bar, they are in line with other premium snack bars, but it still seems pricey. I'd be willing to try one, but they only ship them by the dozen at a price tag of $44.28. If it was in a store, I'd try one to see if I like it or not, but $44 and change is something I'm not willing to part with to try a snack I have questions about.
Will Sharks Bite on This Bar?
Anytime a product makes a claim, whether it's a health claim, weight loss claim or even a sex drive claim, it will raise some eyebrows in the Tank. Mark is notorious for evicerating entrepreneurs that make claims like that. I hope the Gallaghers won't feel his wrath.
As for the other Sharks, I don't think they invest either. The company website doesn't look like something that screams "we got a deal on Shark Tank." I fear the Gallaghers will leave with no deal. At least they can have a snack on the way back to the hotel.  😉