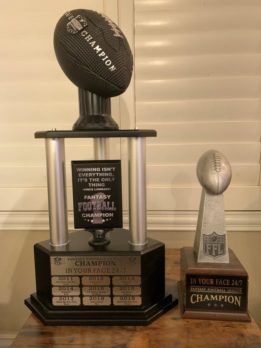 If you ever played a sport, you probably got a trophy at some point in time. Trophies are a part of American culture and they make people feel good about their endeavors. There are iconic trophies for the winners of the World Series, Stanley Cup and Super Bowl and then there are the kind doled out to every member of the tee ball team. Trophy Smack took America's love for trophies and the growth in Fantasy Sports Leagues and mashed it up into a fun and profitable business. Now, you can get trophies, belts (like in professional wrestling) and even championship rings for the winners of your league.
Pretty much every American town has a place to buy awards, so how did this business get so big? The secret is in the founders: Matt Walsh and Dax Holt. Both of them LOVE their fantasy sports leagues and they have a complimentary skill set that makes the business hum. Matt has a vast distribution and logistics background and Dax is a marketing expert with a background in video production; he was also one of the founders of TMZ.
The pair found a way to capitalize on the huge fantasy sports market. According the Fantasy Sports and Gaming Association, fantasy sports leagues generate around $15 billion in total play per year, and that's just the USA. There are leagues for just about any team sport out there. For those who want some recognition in addition to their winnings, Trophy Smack fits the bill. Fantasy sports participants often make draft day an event, and now there can be a little added bling to the proceedings. Having a Shark on board would certainly boost the visibility of this business. Will Matt and Dax be awarded an investment?
My Take on Trophy Smack
I have friends who do fantasy sports on an app. I prefer to watch the game for the game itself, but to each his own. My brother has been in a baseball fantasy sports league for nearly 20 years. Draft day is usually at a local restaurant and they have been giving out awards (usually a tee shirt) since day one. I sent him the link to this company and he replied back "COOL!" He also said he's going lobby for one of the belts as this year's prize.
The thing I like about this company is the guys look like they're having so much fun running their business. After an exhausting 2020, it's refreshing to see. I don't know if I'll ever be a customer, but I like what I see.
Will Sharks Smack Down and Invest?
From the press photos, it appears that Mark likes the product. The thing is, this is one of those businesses that doesn't need a Shark. Daymond publicly declared early in the season that he's only investing in companies that truly need his help, so he's probably out.
I don't think the Sharkettes will jump on board either. That leaves Mark and Mr. Wonderful. Mark would seem like a good fit since it's a sports related business, so he may bid. This is a business that would work well on the "Something Wonderful" platform Kevin is always talking about, so he may bid too. My gut tells me these guys are here for exposure, but you never know.