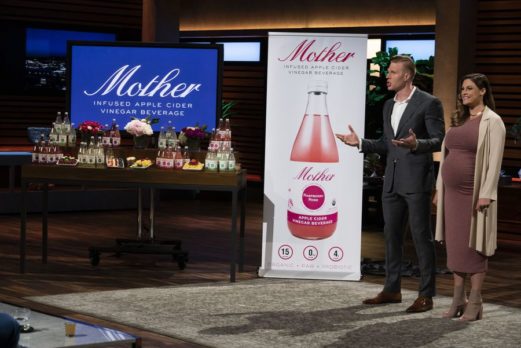 Stephen and Allison Ellsworth pitch Mother, their infused apple cider vinegar beverage, in Shark Tank episode 1005. Mother is the result of Allison's long-time consumption of apple cider vinegar in her daily dietary regime. Many people have been using apple cider vinegar as a homeopathic remedy for over a hundred years. It's said to increase metabolism, which aids in weight loss. It also relieves bloating, is heart healthy, stabilizes blood sugar levels, and promotes alkalinity in your body.
The name "Mother" for their drink comes from the term for the floating ball of film at the bottom of a bottle of raw vinegar that hasn't been distilled or filtered. It's a bacteria culture that is rich in acetic acid.  Allison introduced her husband to apple cider vinegar and its health benefits, but he had the same complaint Allison did: it doesn't taste that good.
Their solution was infusing the vinegar with natural ingredients like pineapple turmeric, strawberry lime, lime ginger, raspberry rose, blueberry sage and blood orange. They add a little Stevia and some carbonated water too. The result is a refreshing tasting, low-calorie beverage that gives you all the benefits of apple cider vinegar without the harsh taste. Mother is so tasty, it won the BevNet New Beverage Showdown in 2016.
Currently, Mother offers free delivery within five miles of Dallas. It's also available in the Dallas Fort/Worth area on Amazon Prime Now. You can also order from their website. A twelve pack of 12 ounce bottles is $42 and a 24 pack is $84; the 24 pack ships for free. They likely want to expand their relationship with Whole Foods (via Amazon) and get nationwide distribution. Will a Shark want to help take them to the next level?
Mother Company Information
Video

Posts about Mother on Shark Tank Blog
Mother Shark Tank Recap
Stephen and Allison seeking $400,000 for 10% of their business. After explaining the health benefits of drinking apple cider vinegar, they hand out samples and the Sharks like the taste.
They've done a half million dollars in sales over the past year and a half and they're on track to do a million in the current year. Each bottle sells for $2.99 and costs $0.75 to make. While the Sharks like the numbers and the drinks, a common objection is it isn't proprietary. They're also not in favor of Stephen and Allison's decision to build their own bottling plant. All the Sharks go out except Rohan. He says their valuation is too high and offers $400,000 for 25% which is accepted!
Mother Shark Tank Update
The Shark Tank Blog constantly provides updates and follow-ups about entrepreneurs who have appeared on the Shark Tank TV show. The deal with Rohan closed before the original show even aired. Since airing, they've scrapped the idea of the bottling plant and gone with multiple co-packers strategically placed throughout the USA. They also introduced cans in addition to their bottles.
As of first quarter, 2020 they're in over 2000 stores including WalMart and Whole Foods. They also sell on Amazon. In addition to Oza joining the board, they took $13.5 million in venture money from CAVU – a venture firm Oza introduced them to. They also hired a new CEO to replace Allison who still sits on the company board.
In early 2020, they announced they are re-branding the beverage as Poppi. The company gets an update segment in episode 1119 where they explain how and why they rebranded. They claim they changed the name because they wanted something they could trademark.  This business, states Rohan confidently, will be Shark Tank's first billion dollar brand. At the end of 2020, the company was in over 2000 stores like Sprouts, Whole Foods, Wegmans, Amazon and more. In 2021 their plans are to be in 14,000 more stores by the end of the year.
In December, 2022, the company raised $25 million more from CAVU to begin offering direct to store delivery. The products are in over 20,000 stores at this time an it has plans to be in over 30,000 stores by the end of 2023. As of August, 2023, they are in Kroger, Publix, Wal Mart and thousands of other stores.  Annual revenue is $28 million.