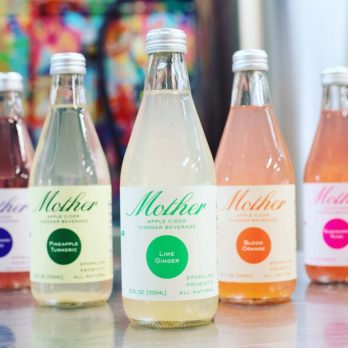 Stephen and Allison Ellsworth want the Sharks to drink up and invest in Mother Beverage, their line of apple cider vinegar based drinks in Shark Tank episode 1005. The "mother" in Mother Beverage pays homage to what's known as the mother of a bottle of vinegar. It's the sludge like blob at the bottom of a bottle of undistilled cider vinegar, basically a rich source of acetic acid. It's what makes vinegar, well, vinegar.
Allison is an apple cider vinegar junkie. She drinks it for all its supposed health benefits: increased metabolism,   relief from bloating, is heart healthy, stabilized blood sugar levels, and alkalinity in your body. Lots of people drink it for a variety of reasons. One day, Allison introduced Stephen to her vinegar regimen. He didn't like the taste and that's what sparked the idea for Mother beverage.
The Ellsworths decided to sweeten the vinegar up a bit with Stevia. Then they added carbonated water and a variety of flavors like pineapple turmeric, strawberry lime, lime ginger, raspberry rose, blueberry sage and blood orange. What they came up with is a more palatable way to ingest apple cider vinegar. Apparently other people like it too, because they were the winners of the BevNet New Beverage Showdown in 2016. They currently only sell in the Dallas/Fort Worth area through Amazon (Whole Foods) delivery service. I'm sure they want a Shark's help getting broader distribution.
My Take on Mother Beverage
I do a shot of apple cider vinegar two or three times a week. I've been doing it since we moved to Florida. My wife drinks it with hot tea and honey. I'd rather just down it quickly because it tastes so nasty! I'm not sure if it works or not all by itself, but since I started working out and downing a shot of vinegar several times a week, I've lost thirty pounds. I think the workouts have more to do with it than the vinegar though.
When I asked my wife what she thought of the Mother Beverage flavors, she said she'd like to try them. Too bad they aren't available in Florida! One thing that struck me is the price: $3.50 for a twelve ounce bottle! That's more than a similar size bottle of cider vinegar at the grocery store! Maybe with increased production and broader distribution, they can get the price down a bit. If it were two bucks, it would be more palatable to me.
Will the Sharks Like this Mother?
I think the Ellsworths are lucky Bethany Frankel and Rohan Oza are on the panel. This product is right up both their alleys. The BevNet panel that judged Mother Beverage all liked the taste and the overall consensus was there was room in the marketplace for this product. If Oza and Frankel like it, they may bid. They'd both bring a lot of value to the product too.
Mark Cuban has many food and beverage companies in his Shark Tank portfolio, so if the numbers make sense, he may jump in. It's an added bonus the Ellsworths are located in Dallas. Mr. Wonderful might jump in to drive the price for the other Sharks down; I think Lori takes a pass. I'm predicting a deal for Mother Beverage, possibly a team up with either Oza and Cuban or Frankel and Cuban.