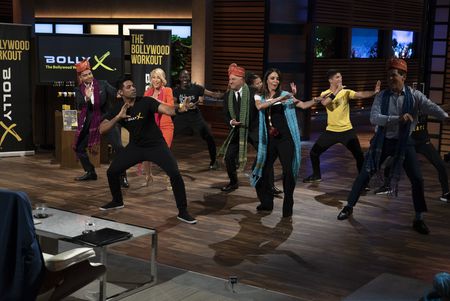 Bolly X creator Shahil Patel first performed Bollywood inspired dance routines on America's Got Talent back in 2009. He didn't win, but he made it to the finals. That was the start of an interesting journey that brought him from California to Boston and made Bolly X what it is today.
Bolly X is an exercise program that takes Bollywood inspired music and dance routines and morphs them into a workout. Patel is an American, but his parents hail from India. He was exposed to Indian culture his whole life, including the films from Bollywood – a nickname for the Hindi film industry in India. Indian films, predictably, depict Indian culture and music. Patel embraced it and learned to dance.
After appearing on America's Got Talent, Patel ended up in the MIT Sloane School of Business, He began offering what was to become Bolly X classes in Cambridge in early 2013. It was during this time he met his partners, branding expert Minal Mehta, fitness industry veteran Fen Tung and Brent Lagerman from Tough Mudder. Together, the four partners grew Bolly X to over 500 classes per week nationwide. Even with 3000 certified instructors teaching classes in thirty states, there's room for more growth. Patel would like a Shark's help with making Bolly X nation-wide, then world-wide.
My Take on Bolly X
I think this is an interesting idea and a good business model, but I'd personally never take one of these classes. When I go to the gym, I just want to get my workout in and get it done as quickly as possible. Our gym offers a lot of group classes (not Bolly X) and I never join in, but I see that a lot of people do.
That's why I think it's a good idea. A lot of folks like that group fitness thing. People I know who take these kinds of classes feel like it helps motivate them and they enjoy the camaraderie. They also like to mix things up. Someone may do Pilates for six months, then Zumba, then some other type of class. People want variety and Bolly X provides another outlet for exercise.
Do the Sharks Want to Dance
Judging from the press image, the Sharks get up and do some Bollywood dancing with Patel and his troupe. While they may enjoy themselves, investing is a whole different matter. The Sharks will like the professional team Patel assembled. He has some very good people working with him at Bolly X. They'll also like the fact that Patel grew the company so fast. The deal will likely revolve around valuation.
The Sharks aren't strangers to the fitness business. Daymond invested in Tae Bo inspired Dance With Me back in season three. Mark invested in Surfset Fitness, a surfing inspired fitness class – also in season three. In Mark's case, Surfset gave up 30% of their business for $300,000. That's a pretty big chunk and it's hard to imagine a smart guy like Patel giving away that much equity. Bolly X grew quite well on its own. While there may be an offer or two, I expect them to get declined because the equity will be too high for Patel.