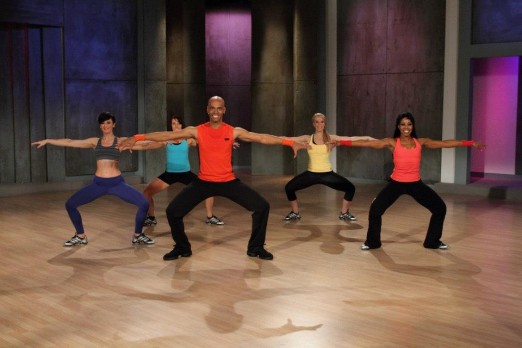 Billy Blanks, Jr., the son of the inventor of Tae Bo, brings Dance With Me to the Shark Tank in episode 315.  Dance With Me is a dance and fitness program, delivered to consumers through a series of DVDs and at live classes nationwide. Blanks' vision is to run certification courses in major cities across the USA so his methods can be taught to more people. Billy is business partners with his wife, Sharon Catherine Blanks, who has performed in numerous Broadway shows and is a certified fitness instructor.
Dance With Me Shark Tank Recap
Dance With Me is seeking $100k for 20% of the business. Billy and Sharon get the Sharks dancing, even Mark Cuban got up to strut his stuff! Billy tells the Sharks about his DVDs, but what he wants is an investment to roll out his nationwide Dance With Me instructor certification program. The Sharks want in on the DVD business too, and Billy agrees it will be part of the deal – if they make one. When Barbara asks Billy why he didn't ask his dad for an investment, Billy says his dad wants him to go it on his own and it becomes apparent the relationship between father and son is "strained." Billy also reveals he and his wife were recently homeless.
As the pitch gets more emotional, Barbara, Robert and Kevin all go out in succession. Daymond asks Mark if he'll go in with him on $100K for 50% of the company. Mark agrees, but the deal is contingent on Daymond setting up a deal with Zumba – another dance/fitness business. Billy thinks that deal will dilute his brand, but that's not what Daymond and Mark had in mind. Billy declines the deal and walks out of the Shark Tank with Sharon. Daymond chases after them and in a tearful exchange, convinces Billy he'll do whatever it takes to help them. They have a deal!
Dance With Me Update
Since their initial appearance, Sharon and Billy Blanks, Jr. orchestrated a nationwide instructor certification tour and certified hundreds of instructors. DVD sales continue to go well too. In May of 2013, Dance With Me will be re-branded to Dance It Out. Further details of this re-branding will be explained when Dance With Me update segment is shown in episode 422.
Posts about Dance With Me on Shark Tank Blog
Billy Blanks Jr. Dance With Me
Dance With Me Information