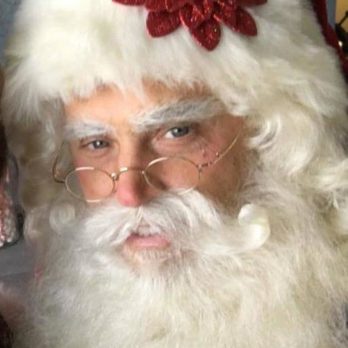 Mitch Allen and dozens of Santa Claus characters join the Shark Tank cast as Allen pitches his Hire a Santa employment agency in the Shark Tank Holiday Special. Allen is a professional Santa who has developed a large, world-wide database of people who dress as Santa for the Christmas season. All his Santas are vetted with background checks and insured.
People who want a good-looking Santa for their Christmas party fill out a form on the company website. The client pays Hire a Santa a small fee to put their requirements into the system. Member Santas then choose the gigs they want. Clients pay their Santa directly. A good Santa can command $150-$500 an hour for his duties.
These aren't rinky dink Santa Claus characters either. All the Hire a Santas have real beards and plush, quality suits and boots. Top of the line Santa costumes can cost anywhere from $1000-$5000. Real beards, the kindly look and the Santa physique are priceless. Many Santas also attend Santa School.
Most Hire Santa clients are companies who want Santa at their Christmas party, private parties and even advertising agencies. The Santas you see at the malls usually don't make as much as Hire Santas do. Allen, a professional Santa himself, started the database around six years ago to streamline the Santa hiring process for client and Santa alike. He's hoping to spread the Christmas cheer on a broader scale, with the help of the Sharks.
My Take on Hire a Santa
I used to play Santa at work and for my parents' Christmas parties. I never got paid, except one time when I won a hundred bucks for the best expression of Christmas cheer at work; I wore my Santa suit to work on Christmas Eve. I also loaned out my suit to a friend who'd come to our house and hand out gifts when the kids were little. My suit was a piece of junk compared to the Hire a Santa guys.
I suppose if I wanted to Hire a Santa for a party, I'd want to know he was background checked. Just this week in Florida, they arrested a known sex offender who was dressed as Santa. It was a set-up as part of a sting operation but it's still creepy. A quality Santa is a good thing too. Nobody wants a tired, sloppy looking Santa at Christmas.
Will the Sharks Play Santa?
I think this business is here more for the Christmas entertainment value than for investment purposes. The company only has about $100,000 in yearly revenue, so it's a small concern for the Sharks. Unless Allen can demonstrate that some sort of Shark induced expansion can drastically increase sales, I fear Santa may leave the Tank without a partner.
That said, it is Christmas and the Sharks have invested in Santa in the past. mark took a flyer on the Living Christmas Tree Company a few years back. It wasn't making a ton of cash either, but Mark liked the entrepreneur and the concept. That business, like Hire Santa, got a deal because it was the Christmas thing to do. Perhaps there will be a little Christmas magic in the Tank once again.