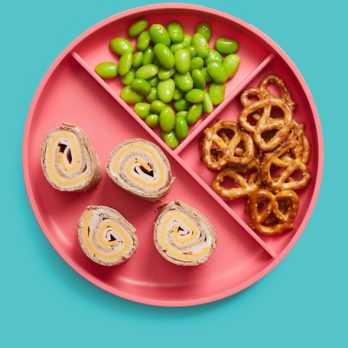 Yumble Meals founders David and Joanna Parker started making pre-made meals for their own three kids when the chore of getting meals together became too much of a chore. Kids can be picky eaters and theirs were no exception. Basically, Joanna made wholesome, healthy meals based on her own kids' favorites: pizza, chicken nuggets etc. She knew if she disguised healthy meals as "regular food," her kids would go for it. The Parkers hope the Sharks go for it in episode 1005.
Once she perfected the process, friends began asking her to make meals for their kids. Before long, she had a waiting list and that's when she knew she had a business. What makes Yumble meals special is they're ready to go when they arrive at your door. Some you can eat right out of the box while others need some quick heating in the microwave.
All ingredients are locally sourced, organic and seasonal. Yumble Meals operates on a weekly subscription service model, but you can skip any week and cancel anytime. At anywhere from six bucks to 7.50 a meal, it appears parents are willing to pay for the privilege of not having to constantly slave in the kitchen cooking for their kids. They are doing a very brisk business.
Business is so good, Yumble Meals attracted the attention of venture capitalists. In September 2018, they raised $8.5 million from 
Sonoma Brands and others. This likely occurred after taping for Shark Tank, so it could mean there's no deal done in the Tank. We will see.
My Take on Yumble Meals
As a father of five with a gluten sensitive and lactose intolerant child, a vegetarian and a picky eater in the bunch, there were many times I wished I could have opened a box of Yumble Meals and doled out supper. Alas, they weren't around when my kids were small. I often made meals that were assembled at the table: pasta, meat and veggies with different sauces were popular as the kids grabbed what they needed and mixed things together on their plates. This worked out just fine, but it was a lot of work.
With Yumble meals, you pay for the convenience. A small, one serving meal costs $6-$7. A popular meal for my kids was brocoli, chicken, pasta and a choice of alfredo sauce or a red sauce. The entire meal that fed seven of us cost less than six bucks for all the ingredients. That makes Yumble meals look very pricey. That said, I see Yumble as a supplement to home cooked meals; something you can have for on the go nights or on one of those nights you're just not feeling it in the kitchen.
Will Sharks Feast on this Business?
Subscription box services and food kits fared well in the Tank in the past. Plated, a meal service that sends ingredients to your door, and Misto Box, a gourmet coffee subscription come to mind off the top of my head. Mark invested $75,000 for 30% of Misto Box back in season four. Mr. Wonderful invested in Plated after an on-air deal with Mark went south. Both companies continue to do well.
With both Mark and Kevin knowing the trials and tribulations of such a business, it may peak their interest in Yumble. They already have the business model down pat. Rohan Oza and Bethaney Frankel both have food and beverage experience, so they may make a play too. The fact that Yumble raised all that cash after taping makes me think they don't get a deal with a Shark. If they do, it likely didn't close as they sought cash elsewhere.