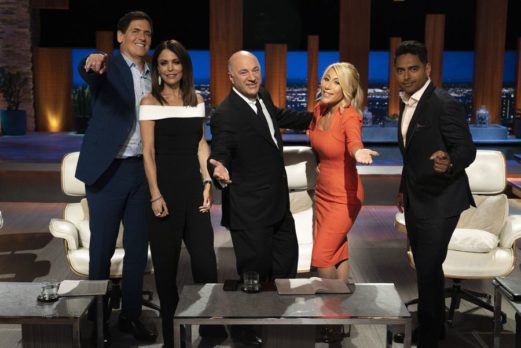 Episode 1005 is the first Shark Tank episode with two guest Sharks: Bethany Frankel and Rohan Oza. Each appeared before, but never together. Tonight, they'll join Mark, Kevin and Lori as four new businesses vie for an investment.
Summer Pierce, Billy Pierce and Kayla Roof introduce the hot new toy that satisfies the "unique obsession" of popping zits. David and Joanna Parker pitch Yumble, their fast-growing,  healthy and ready to eat meals for kids subscription service. Stephen and Allison Ellsworth introduce the Sharks to Mother, their line of flavor infused, lightly sweetened and carbonated apple cider vinegar drinks. Shahil Patel dances his way into the Tank with BollyX, his rapidly growing, Bollywood inspired dancercise classes. Which one of these new businesses partners with a Shark?
Back in season 5, Robert invested $100K for 10% of Tipsy Elves. Since then, the company had several update segments and they were featured in Beyond the Tank, the show dedicated to Shark Tank updates. Their last update segment was back in season seven  and they had expanded to 20 employees with $20 million in sales. Tonight we'll see how much further they've come.
The Sharks
---
Bethany Frankel
Rohan Oza
There are 28 Shark Tank Episodes for Season 10. This season features more appearances by "guest Sharks," including billionaire Jamie Siminoff. The 200th episode also airs this season. Casting is currently closed, but it never hurts to get a head start on season ten! If you would like to appear on the show, check out our Auditions and Casting information.
Episode 1005 – The Shark Investors and Entrepreneurs
The Shark Tank Episode 1005 entrepreneurs will make their best pitch to the panel of five Shark investors who will use their own money if they choose to invest. The Shark Investors negotiate on the spot without any previous information, which differs from typical negotiations between venture capital investors and entrepreneurial start-ups.
Companies pitching the Shark Investors must go through a rigorous due diligence process before an on-air deal is completed. Shark Tank Blog follow ups help you keep track of the companies that end up successful and the ones that don't complete their deal.
Thank you for reading SharkTankBlog, the number one site for Entrepreneurs, Investors and Fans. Our content updates multiple times day, giving you the latest information on Episode 1005, Season 10, and all other seasons and episodes.
Episode 1005 Press Release
Shark Tank: Episode 1005 (12/9)
SKINNY GIRL MOGUL, BETHENNY FRANKEL, AND BRANDING GURU ROHAN OZA RETURN TO THE 'TANK' ON AN ALL-NEW EPISODE OF ABC'S 'SHARK TANK,' SUNDAY, DEC. 9
"Episode 1005" – First into the Tank is a family of entrepreneurs from Chapin, South Carolina, and Fairhope, Alabama, who present a product that satisfies a unique, and some would say disgusting, obsession; husband and wife duo Joanna and David Parker from Englewood, New Jersey, introduce their convenient subscription service that makes meal time for kids stress-free for parents; an entrepreneur from Yorba Linda, California, pitches his Bollywood-inspired dance fitness program that gets the Sharks dancing; last into the Tank is a husband and wife pair from Dallas, Texas, who give the Sharks a taste of their better-tasting probiotic beverage, on "Shark Tank," SUNDAY, DEC. 9 (9:00-10:01 p.m. EST), on The ABC Television Network, streaming and on demand.
In a "Shark Tank" update, Evan Mendelsohn and Nick Morton, from San Diego, California, update their investor, Robert Herjavec, on Tipsy Elves, a holiday-themed apparel company that sells holiday sweaters and other holiday-themed items.
The Sharks in this episode are Mark Cuban, Kevin O'Leary, Lori Greiner and Guest Sharks Bethenny Frankel and Rohan Oza.