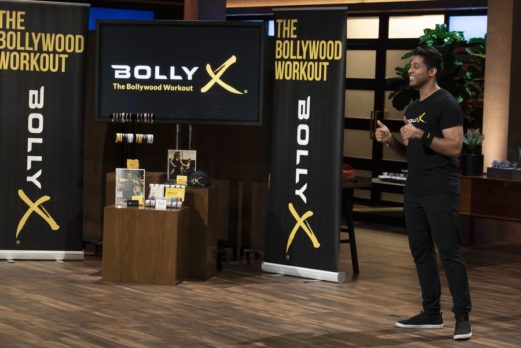 Shahil Patel brings BollyX, his Bollywood-inspired dance-fitness program, to the stage in Shark Tank episode 1005. In 2009, Patel made it to the finals of America's Got Talent with a Bollywood dance troupe. Bollywood, for those who don't know, is the Indian Hindi-language film industry. It's known for its elaborate dance numbers in many of its films.
After America's Got Talent, Patel traveled the country organizing and performing Bollywood style dances and drew both large crowds and rave reviews. After graduating from UC Berkley, he went to MIT's Sloan Business School to get his MBA. While in Boston in 2013, he met  Minal Mehta, and started Bolly X. During one of their classes, they met  Fen Tung, a 15 year veteran of the fitness industry and the business started to grow. Soon thereafter, Brent Lagerman from Tough Mudder got involved and things really took off. Since early 2014, BollyX grew to over 30 states with 3000 instructors giving over 500 classes per week!
In 2015, BollyX won the Harvard Business School award of "Most Innovative" new venture. Now, there are on demand classes online for people who want to join this new fitness craze but don't have classes in their city. Patel currently trains instructors and wants many more on board so he can grow the business globally. Perhaps one of the Sharks will want to dance?
BollyX Company Information
Video

Posts About BollyX on Shark Tank Blog
Bolly X – Bollywood Inspired Exercise
BollyX Shark Tank Recap
Shahil enters the Shark Tank with a troupe of dancers. They do a short performance and place skarves around the Sharks' necks. The dancers leave. Shahil's seeking $375,000 for 8% of his business. He tells his story and gives his pitch then invites the Sharks onstage to do a workout. He tells how he learned to dance and how he got on America's Got Talent.
He has 350 locations. They train and license instructors who pay him $20 per month. There are 1100 subscribers – $22,000 per month. Life time sales are $1 million with gross margins of 80%. He's been in business five years an most of the income was in the last three years. The company became cash flow positive this year (2018). The goal iws to build a community of subscribers paying $9 per month – they currently have 375 subscribers. Kevin likes the model.
Last year they brought in $315,000 and lost $600,000. Mark thinks his "platform" is nothing more than Youtube Videos. He raised $1.7 million from friends and family and has $75,000 in the bank. He only owns 25% of the business. Rohan questions the valuation.
Mark thinks Shahil gave a high valuation so he won't get diluted to nothing and he says he's grasping for solutions; he's out. Bethenny doesn't think he's focused; she's out. Kevin thinks there's something here, but it's not worth $.6 million; he's out. Lori likes the workouts but she doesn't have a clear understanding of his plan; she's out. Rohan thinks it took him five years to figure it out and he doesn't like the valuation; he's out.
BollyX Shark Tank Update
The Shark Tank Blog constantly provides updates and follow-ups about entrepreneurs who have appeared on the Shark Tank TV show. Despite not getting a deal, the company continued to grow. Things got rocky during the 2020 global Covid-19 pandemic and they did all virtual classes, which proved Shahil's model. For a time during the pandemic, the company offered lifetime membership for just $49. They virtually teach classes all over the world. As of August, 2022, the company is still in business and has annual revenue of $5 million.