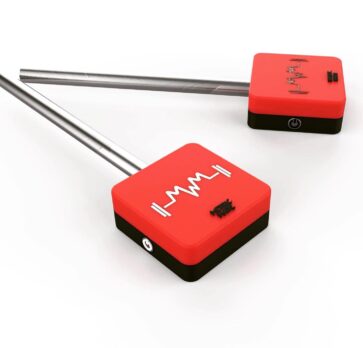 MT Strickland, Braxton Davis and Ecleamus Ricks invented The Metric Mate to provide an easier way for people to have accountability for their workouts. Whether you're doing cardio or lifting weights, if you're serious about working out, you keep a log of your activity. The Metric Mate will change that. It's an app that, when paired with Metric Mate's TAP (short for Training Accountability Partner) device, logs all your exercises and counts the calories burned and more.
The TAP device turns any gym equipment into a smart piece of equipment. For instance, if you put it on a dumbbell, it will log how much weight you lift, number of reps, intensity and calories burned. It then stores the data in the app and you can share it with a personal trainer or doctor or just use it to monitor your progress. Personal trainers and other coaches can also use it to remotely check  in with clients and hold them accountable for their training regimen.
The app is free, but the TAP device costs $199. The Metric Mate is only available on a pre-order basis as of the original air date. What with all the supply chain issues over the last 2-3 years, the guys likely want a Shark to help with inventory.
My Take on The Metric Mate
I just started working out again after recovering from knee and hip "issues." It's been about a year and a half. When I lift, I have a little notebook in our weight room that I track my progress with. All I get is a log of how much weight I lifted and reps. I don't have a personal trainer, so I don't share any data with anyone except maybe my wife.
The TAP device is cool. All the data points it analyzes are helpful, particularly the calorie burn. I'd drop $199 for that feature alone for my weights. My recumbent exercise bike has a built in calorie meter, which I enter into my log. Once this product is available (I NEVER pre-order anything), I may very well pick one up.
Will Sharks Weigh In on this Business?
It's unclear whether the TAP device is pre revenue or if they ran into supply chain issues. If it's pre revenue, the guys could face an uphill battle in the Tank. If it isn't, they could field an offer or two. Lori will likely bow out and call it "too early." Barbara has gotten burned on exercise products before and tends to shy away from the; she'll be out too.
That leaves Mark, Mr. Wonderful and Tony Xu. Tony is a wild card –  I don't know his tendencies. Mr. Wonderful will likely float a royalty offer. Mark may bid too if the technology is sound. If the company is pre revenue, they'll leave empty handed.