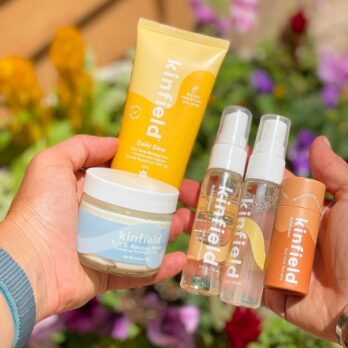 Nichole Powell created Kin Field because she was concerned about DEET. DEET or N,N-diethyl-meta-toluamide, is a chemical found in most mosquito repellents. She wanted no part of putting that on her body because overusing it can have serious side effects. As an outdoorswoman, she needed a good mosquito repellent, so she set out to make an all natural, sustainable repellent.
Her flagship product is Golden Hour, a mosquito repellent that uses citronella oil, like that found in mosquito repellent candles. According to the reviews I've seen, the stuff really works. There's also anti itch balm, sunscreen, lip balm, face masks, recovery creams and sprays in her line. Not only are the products all natural and sustainably sourced, so is her packaging. Nearly everything they use is recycled, compostable or recyclable. She even gives 40% off your next order if you send back your used packaging to the company and have them recycle it.
Kin Field is one of a growing number of businesses that are foregoing chemically laden products with all natural ones. She even has a special "Shark Tank Bundle" that gives a discount of $22 when you order four products (repellent, 2 sun screens and anti itch balm) together. She doesn't have her products in retail yet, but a Shark could certainly help with that.
My Take on Kin Field
I don't use a lot of mosquito repellent at all. They don't bother me for some reason. When they're thick and really biting, I will put some on, but I don't like to. It smells and I'm aware of DEET's harmful qualities. I'll probably order some of this the next time I need mosquito repellent. The other stuff doesn't interest me though.
I never use sunscreen. When I'm out in the sun, I prefer SPF clothing and a hat to protect me. At $22 per bottle of repellent, it's a bit pricey, but I'd rather have citronella on my skin than DEET. I'm in.
Will Sharks Bite?
Once again, I'm not sure about Tony Xu's propensity to make offers, so I don't know what he'll do on this. Any of the other Sharks may or may not make offers if the valuation is good, but I think Barbara does a deal for this.
Here's why: on Kin Field's Facebook page, there is a photo of Nichole's products along with some Curie deodorant. Curie did a deal with Barbara in season 13. Like Kin Field, the products are all natural and sustainable. The two businesses share a similar mission. Barbara was able to get Curie more retail distribution fairly quickly. Nichole wants into retail and Barbara understands how to get that done. I predict Barbara does a deal here.