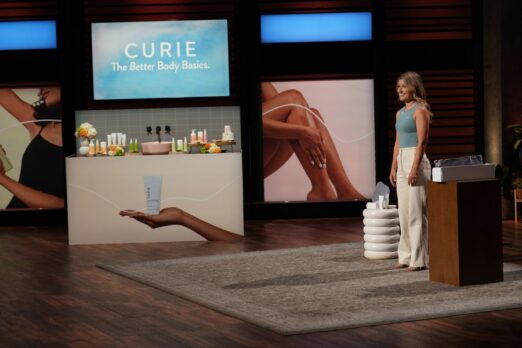 Sarah Moret hopes to seal a deal with a Shark for Curie, her line of in safe skin care products, in Shark Tank episode 1317. The 2011 Boston University Business School graduate has a finance background and had several jobs in that field before founding her business in 2018. She started the business with $12,000 of her own money. The first product was aluminum free deodorant, a product she created because she couldn't find an aluminum-free deodorant that worked for her. Initially, the business was a side hustle, but it grew quickly because the product worked. Many people like the idea of natural products, but some – like the deodorants Sarah had experience with – don't.
Over the years, she added to the product line. It now includes Clean Stick and Spray Deodorant, Hydrating Hand Sanitizer, Body Oil, Body Wash and even candles! Customers get to choose the scent of their products too. Scents include Orange Neroli, White Tea and Grapefruit Cassis. One of the roll-on deodorants costs $12 – less if you buy on a prescription basis. Everything she sells is aluminum, paraben and cruelty free.
Products are available in over 600 Nordstrom, Bloomingdales and Anthropologie stores. She also goes live on QVC once a month from her living room. Sarah has several employees and her LinkedIn profile says "we're hiring," so she must have some sales. She likely wants a Shark's help getting broader retail distribution.
Company Information
Video

Posts about Curie on Shark Tank Blog
Curie Deodorant and Personal Care
Curie Shark Tank Recap
Sarah enters the Shark Tank seeking $300,000 for 5% equity in her company. She says people don't think about what goes on their arm pits. Next, she  whips out some aluminum foil to demonstrate the aluminum found in most anti perspirants and deodorants. She goes on to tell the Curie story. After talking about the ingredients, the Sharks examine their samples. Lori thinks they smell nice.
She developed the  spray deodorant after being approached by a national gym chain for their gyms. Spray deodorants can be shared. 2019 sales were $125,000 and she raised $1 million in 2020 on a convertible note. The company is not profitable yet. Each deodorant stick costs $2.70 and sells for $12. The spray deodorant costs $2.90 and sells for $14. The body care products have an 85% margin. Daymond says she is spot on with her numbers, Sarah says she was a CPA. She earned a full time role on her company's investment team. Sales for 2020 were $700,000 and she's on track to do $2 million in sales for 2021.
Lori wants to know if they've done lab testing – the company has not. The manufacturers of the ingredients have done testing. Kevin says it's not his space and he can't add value; he's out. Mark says she doesn't see the "hockey stick" coming, but Sarah says they just launched in Soul Cycle nationwide. Even so, Mark doesn't like the valuation, he goes out. Barbara says she would have made a deal, but she's scared of how fast, she's out. Lori agrees with Barbara, she's out. Daymond says he's on the fence.
After a break, Daymond says he doesn't like the valuation. He offers $300,000 for 20%. Sarah counters at $300,000 for 12%. Sarah says she got to where she is at with hustle. Mark and Barbara are huddling up while Sarah keeps pitching. She says she  literally got a call from the producers two hours before taping. After hearing this, Daymond goes out. Barbara says that's a lucky sign. Mark and Barbara offer $300,000 for 14%. Sarah counters with $300,000 for 12% plus 2% advisory shares. She then switches the counter to $300,000 for 10% plus 4% advisory shares and Mark  and Barbara agree.
Curie Shark Tank Update
The Shark Tank Blog constantly provides updates and follow-ups about entrepreneurs who have appeared on the Shark Tank TV show. On show night, Barbara Tweeted:
Sarah and this deal both smell fabulous! Excited to welcome @Curiebod to the family. #SharkTank
In three days after airing, Curie completely sold out of product and did double her first year of sales (that's $250,000 in three days). She will have more products available by the end of April, 2022.